Hey, Minnesota, it's Harvest Season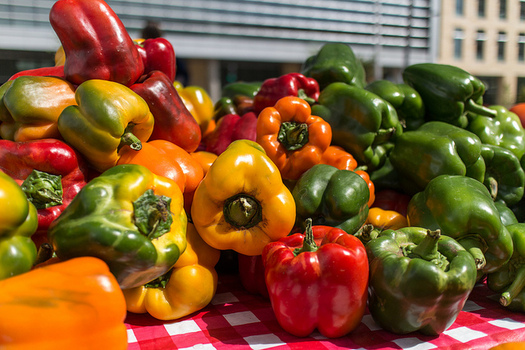 Farmers markets will have fresh produce through October, according to the Minnesota Farmers Market Association. (Patric Kuhl/FlickR)
October 9, 2017
ST. PAUL, Minn. – After a cold, wet summer and a September that was all over the place, Minnesota farmers are bringing plenty of produce to market in October. This is good news especially for lower-income Minnesotans who are doubling their federal food assistance money with a state program called Market Bucks.

Patti Whitney-Wise, program manager at Hunger Solutions, said nearly a half-million Minnesotans - or one in twelve - receive SNAP.

"They're able to use their SNAP money up to $10 at a time, get it doubled to $20 and then purchase fresh fruits and vegetables at the local farmers market," Whitney-Wise said; "which is often one of the hardest things for them to purchase because they're expensive in the stores."

SNAP stands for Supplemental Nutrition Assistance Program; formerly known as food stamps.

Whitney-Wise said with Market Bucks, low-income families eat healthier, while farmers and farmers markets sell more.

"They've seen farmers who then give these families extra because they know how much it's appreciated," she said. "Those families then become attached to those markets and the farmers in those markets so that sense of community is another piece that I think is really wonderful."

In 2015, Minnesota became the first state in the nation to fund SNAP incentives for farmers markets. Support was bipartisan.

Bill Boutang is president of the Minnesota Farmers Market Association. He also runs a farmers market in Grand Rapids, where he said tomatoes came in late but great. He said the Market Bucks program gets more popular every year.

"So that money stays in the community," Boutang said. "It's just a win-win for the farmer. It's a win-win for folks trying to extend their benefits to feed their family. They're eating better. It's fabulous."

About 80 percent of farmers markets in Minnesota participate in the program.