Megafires Predicted More Often for Nevada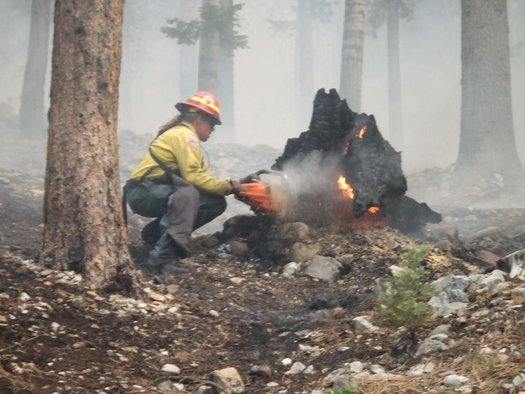 The Carpenter 1 fire on Mount Charleston choked skies over Las Vegas with smoke for several days in 2013. (inciweb.nwcg.gov)
October 19, 2017
CARSON CITY, Nev. -- Megafires such as the Carpenter 1 fire on Mount Charleston that blanketed Las Vegas in smoke four years ago will be more common in the future - according to a new report.

Researchers from the National Wildlife Federation found that wildfires have burned 8.5 million acres nationwide so far this year and are on track to cost the federal government about $2.5 billion to fight. Judythe Ann Minale, a risk manager for Capstone Insurance, said too many people are living in areas with high fire danger - exacerbated by last winter's rains, which produced extra vegetation that now has dried out and will be quick to burn.

"A lot of homes or businesses in high-risk areas are going to have a difficult time getting insurance, and [will] pay a lot for that insurance," Minale said.

Minale said people shouldn't tune out warnings that the hotter, drier conditions linked to climate change are making these so-called 100-year catastrophic fire events more common. According to the Great Basin Coordination Center, almost 1.2 million acres have burned throughout Nevada in 2017 as a result of 658 wildfires.

Shannon Heyck-Williams, climate and energy policy adviser for the National Wildlife Federation, said Congress needs to create a special fund to fight megafires, instead of making the Forest Service contend with catastrophes on its regular budget.

"Agencies like FEMA can get disaster funding help when it comes to things like hurricanes and tornadoes, massive flooding. But the Forest Service can't do that when it comes to fighting mega fires," Heyck-Williams said. "It only makes sense that we get them that access to that money, because megafires truly are catastrophic events just like these other disasters."

The report also found that fires in Northern Nevada have led to an invasion of non-native cheatgrass - eliminating habitat important to animals such as the sage grouse, the short-horned lizard, the pygmy rabbit and the Brewer's sparrow.

Researchers also found forest managers have suppressed too many small fires over the past few decades, blazes that would have cleared out much of the extra brush and fallen logs that have built up.
Suzanne Potter, Public News Service - NV