Report: "Mega Fires" Devastate the West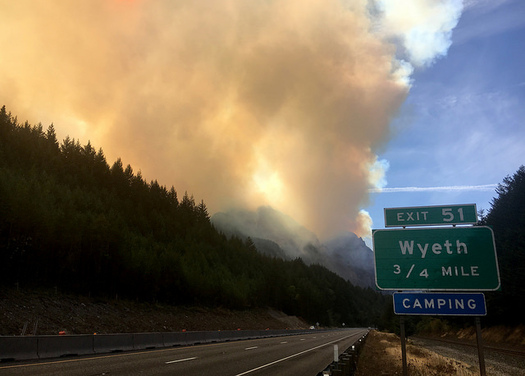 The Eagle Creek Fire in the Columbia Gorge is one of the many blazes the country experienced in this very active fire season. (Oregon Dept. of Transportation/Flickr)
October 19, 2017
PORTLAND, Ore. -- As the country tallies the many costs of an incredibly active wildfire season, a new report details the growing threat from so-called megafires.

The National Wildlife Federation detailed the risks to forests, communities and wildlife from the unusually large fires that have dominated recent seasons in the West. The report explored multiple causes, including the ways in which climate change contributes to longer fire seasons.

The U.S. Forest Service faces a massive forest restoration backlog. And Ian Fergusson, resource director of the Association of Northwest Steelheader, noted the federal fire budget takes from other much-needed programs to suppress these infernos.

"Forest Service is forced to pull funds out of conservation and use them for fighting fires," Fergusson said. "They really should have a dedicated fire fund and it's up to Congress to authorize that. But that would help enormously because we're doing it exactly backwards - taking money out of where we need to put it just to put out fires."

Fergusson and the report also pointed out that forests burn periodically as part of a natural cycle, which can be beneficial for rejuvenating them. But the increase in bigger and hotter blazes poses serious risks to local communities and economies, as well as wildlife.

Report co-author Shannon Heyck-Williams, climate and energy policy advisor at the National Wildlife Federation, said Congress should treat wildfires much like it treats other disasters, and offer disaster funding to the Forest Service. She said the country should also accelerate restoration projects in forests and grasslands to improve their resilience.

"We should do what we can to incorporate the future of climate and this new reality into our development planning, and really adapt to this changing world and develop more smartly, so that we don't put people in jeopardy," Heyck-Williams said.

In addition to dependable funding for wildfire management and prioritizing restoration projects, the report suggested governments at all levels tackle carbon pollution to curb the effects of climate change.
Eric Tegethoff, Public News Service - OR