Ohio Elections Chief: "Make Sure Your Voice is Heard"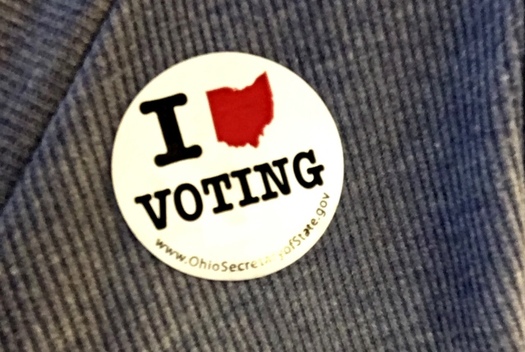 Early voting for 2017 is outpacing early voting in 2015, the last off-year election in Ohio. (M.Kuhlman)
November 7, 2017
COLUMBUS, Ohio – While Election Day 2017 certainly is not seeing the drama of last year's presidential race, it still is a very important election for Ohio.

Secretary of State Jon Husted says many matters on the ballot can impact daily lives, including more than 1,500 local issues such as mayoral and city council races. He encourages all voters to make sure their voices are heard.

"Over the last four years, there have been 112 elections that have been decided by one vote, or tied," he says. "That means that in mayoral races, school levies and the like, one vote has really made the difference on many occasions - and I'm sure that will be the case in some elections across the state."

There are two statewide issues on the ballot this year. Issue 1, known as Marsy's Law, would provide crime victims with specific constitutional rights. Issue 2, the Drug Price Standards Initiative, would require state agencies and programs to buy prescription drugs at prices no higher than what the U.S. Department of Veterans Affairs pays for them.

More than 338,000 voters requested an absentee ballot, and Husted notes early voting so far is outpacing the last so-called "off-year" election in 2015.

"In early voting so far, we have seen very high turnout," he adds. "More and more people are getting used to early voting by person and by mail, and so we've seen a good early turnout."

Nearly eight million Ohioans are registered to vote, and turnout was more than 70 percent in last year's presidential election. In 2015, it was 43 percent. Polls are open until 7:30 P.M. and voters need to show proof of identity and address, such as a driver's license, military identification card or a copy of a utility bill with name and current address.

Polling locations and a sample ballot can be found on the Secretary of State's website.

This collaboration is produced in association with Media in the Public Interest and funded by the George Gund Foundation.