Critics: Faster Poultry Line Speeds Could Hurt Workers, Consumers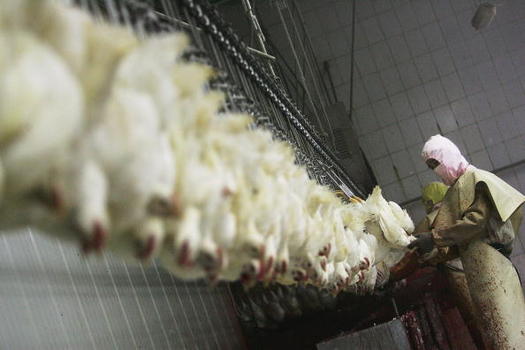 Food-safety advocates say faster production-line speeds would jeopardize the safety of poultry workers, as well as the safety of the finished product. (Getty Images)
December 12, 2017
CHEYENNE, Wyo. – The poultry industry is proposing allowing faster production-line speeds in factories - but at what cost to workers and consumers?

The National Chicken Council has petitioned the U.S. Department of Agriculture to grant increased line speeds to poultry processors. The current limit is 140 birds per minute, but the industry prefers 175 birds per minute or about three per second.

Debbie Berkowitz, a senior fellow with the National Employment Law Project, says if the USDA approves, poultry plants across the country could increase their line speeds, which has consequences for product safety and quality.

"The United States Department of Agriculture sets the line speeds in the poultry industry to protect consumers, because you want to make sure that the inspectors have time to look at the birds, to do the testing that they need to do, to make sure consumers are protected," she explains.

The USDA is accepting public comment on this proposal through this Wednesday, December 13. The National Chicken Council says plants need higher line speeds to keep up with international competitors.

But Berkowitz predicts the higher pace also would jeopardize worker safety in an already-dangerous industry. She adds that poultry workers perform their duties at breakneck speeds as it is.

"They have among the highest numbers of reported severe injuries, such as amputations," she adds. "They have illness rates that are five times the average for all industries; injury rates that are 1.5 times as high as all industries."

The poultry industry contends that workers aren't at greater risk from increased line speeds. Berkowitz says another hazard workers face is exposure to the growing use of chemicals on birds to kill pathogens.

Berkowitz questions whether the process even is legal. She says the USDA studied the current limit for line speeds for three years during the Obama administration and found it should be kept where it is.

"It would be like you petitioning as a consumer, 'I'd like to be exempt from the speed limit on this highway on my way home because I know in other states they have higher miles per hour that they allow,'" she says. "I mean, this is just a ridiculous request."