It's OK to Be a Scrooge When it Comes to Scammers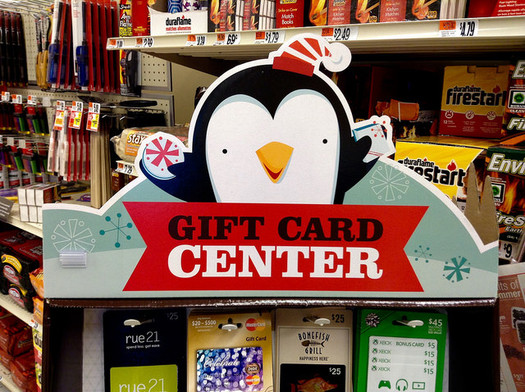 Scammers have been copying numbers from gift cards on kiosks, waiting until they are activated and then draining the funds. (Mike Mozart/Flickr)
December 19, 2017
AUGUSTA, Maine – The hectic holiday season is prime time for scammers to prey on vulnerable consumers, but with the right information, you can avoid becoming a victim.

Jane Margesson, communications director of AARP Maine, says bogus or fake charity scams are very common this time of the year when people are likely to be feeling generous. While most appeals are legitimate, she urges Mainers to be very cautious of unsolicited phone calls, emails and texts looking for donations. She says it's important to know exactly where your money will go.

"If you go to, for example, Charitywatch.org or charitynavigator.org, you can actually check out a charity for their legitimacy before you send any money to them," she says.

With so much shopping being done online, Margesson says it's important to be careful about offers received by email. Some may take you to fake websites that steal your credit card information. While mobile devices have made online shopping much easier to accomplish on the go, she recommends sensitive information never be sent over unsecured, public Wi-Fi where activity is potentially visible to hackers.

Shopping for a gift card? Margesson advises purchasing gift cards directly from a store clerk and have them confirm the balance to ensure the card has not already been drained by scammers.

"They can actually grab the gift card right off of a busy kiosk and record the codes and the numbers from the back of the card, so then when you go and purchase that card and you activate it, they have a way to actually spend the money before you have a moment to give it," she warns.

Margesson says an added layer of protection from holiday schemes is to place a freeze on your credit report. It can be done for free in Maine with all three major credit bureaus.

"Placing a freeze is a wonderful way to protect your identity and your most sensitive information," explains Margesson. "It won't cost you a dime, it won't stop you from using your credit card. It just keeps your financial history very safe."

Margesson says scammers are relentless and creative. She encourages Mainers to be aware of popular scams, and share the information with others. Learn more online at aarp.org/holidayscams.
Mary Kuhlman, Public News Service - ME