Biggest Story Missed in 2017? Climate Change, Says Media Analyst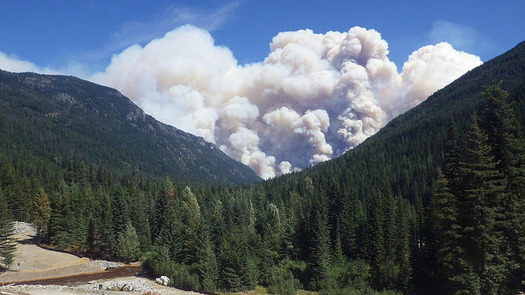 Wildfires raged across Washington state this year and scientists point to climate change as the reason for their intensity. (USFS/Flickr)
December 26, 2017
SEATTLE – This year the media seemed to follow President Donald Trump's every move in the White House with bated breath. But did that leave other big stories uncovered?

Lisa Hymas, climate and energy program director at Media Matters, a progressive media watchdog group, argues it did, and that climate change is the most important story of 2017 the media failed to cover. She said that's despite the fact that the United States saw an extraordinary number of devastating weather events this year.

"And they're just the sort of thing that climate scientists have been telling us that we will see," Hymas said. "And some media outlets are telling people that, but too many of them are not. They're not connecting the dots between extreme weather like hurricanes and wildfires and floods to climate science."

Hymas cited research showing that, during two weeks of hurricane coverage on eight major networks, 60 percent of stories included the word "Trump" and only 5 percent mentioned "climate change."

Nationwide, 2017 was the most expensive wildfire season in the country's history, with most of the fires burning in the West. More than 300,000 acres burned in Washington state.

Hymas said covering climate change can be hard for journalists because it's a relatively slow-moving phenomenon and often feels like a faraway threat. While climate change may not cause any single hurricane to form or wildfire to break out, she said there is good science that explains the interaction between the two.

She said a series of papers was recently published in the Bulletin of the American Meteorological Society where researchers around the world analyzed 27 extreme weather events. They found that human-caused climate change drove 21 of those events.

"Climate change does exacerbate events. It makes them more extreme," Hymas said. "So, I think sometimes journalists shy away from it because the science can be a little bit complicated to explain. But I would encourage the media to talk directly to scientists and let them explain the connections that they're finding."

Still, Hymas said she has a rosy outlook for the future of coverage. She said some media outlets did well connecting the dots during events like hurricanes Harvey and Irma.

"In some areas, coverage is gradually improving and I hope that that will continue."

Hymas said the media is critical for shifting the public's perspective on climate change, and the country needs to switch to a clean-energy system as soon as possible to avert its worst effects.

Hymas's original story on climate change and the media is online at TheGuardian.com.
Eric Tegethoff, Public News Service - WA