Solar Power Continues to Grow in PA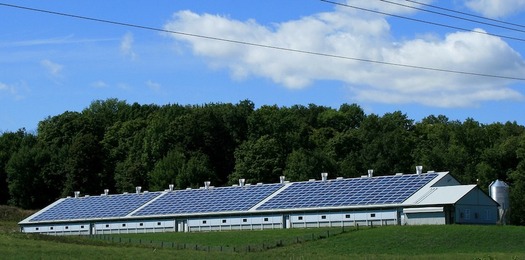 Installing solar systems will return an estimated 8 to 10 percent on the initial investment. (PublicDomainPictures/Pixabay)
December 28, 2017
HARRISBURG, Pa. – Solar power is growing in Pennsylvania as individuals, businesses and communities take action to reduce carbon emissions.

Since the Trump administration's withdrawal from the Paris Climate Agreement, local and state efforts to combat climate change have become critical.

According to Jason Grottini, director of design for Envinity, a clean energy company, Pennsylvania is creating incentives to encourage both commercial scale solar installations and smaller systems for home and business.

"We have very strong net metering laws, which allows homeowners and businesses to sell their excess power back to the utility," says Grottini. "We recently passed some legislation that all the renewable energy that our public utilities are required to generate must come from inside Pennsylvania."

He adds improvements in efficiency and reductions in the cost mean those who install home based solar systems can expect an 8 percent to 10 percent return on their investment.

Critics complain that the growth in renewable energy depends on government subsidies and incentives. But Ed Perry, an aquatic biologist with the National Wildlife Federation, points out that the very profitable fossil fuel industry gets plenty of government help every year.

"They get over $15 billion a year in tax breaks that are built right in to the tax code," he says, "so that they don't have to go back to Congress each year, like the wind and solar industry does, to get these tax credits."

He says tax incentives for renewables are not special treatment – instead, they level the playing field.

Scientists estimate that to avoid the worst impacts of climate change will require reducing carbon emissions 80 percent by 2050. Perry notes that even with cancellation of the federal mandate to reduce carbon emissions, progress continues.

"Already, despite the fact that the Clean Power Plan is not in effect, Pennsylvania is on that path," says Perry.

Forty-two mayors nationwide have adopted the goal of achieving 100 percent clean, renewable energy by 2035.