Native Women's Shelter: One Door Closes, Another Opens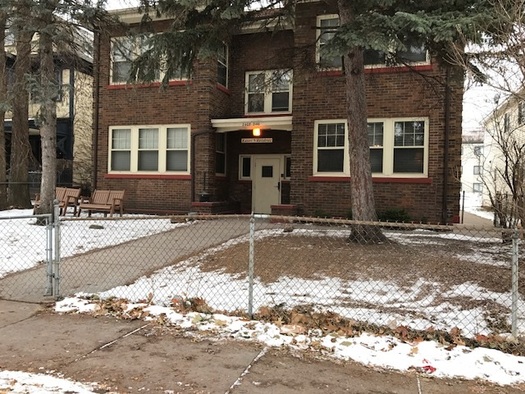 Kateri Residence in South Minneapolis plans to close in June. (Laurie Stern)
January 5, 2018
MINNEAPOLIS – Last month, nine residents of a South Minneapolis shelter learned their long-term home would be shuttered in June.

Kateri Residence - a 44-year-old program to help Native-American women recover from chemical addiction and reunite with their children - said it couldn't afford to keep going.

St. Stephens Human Services Executive Director Gail Dorfman explains the program is costly to run, the building needs repairs, and an agency with more expertise could run Kateri better.

"In the first 30 years of the program, we were dealing with alcohol," she says. "Now, we're dealing with heroin, and we think someone else can do it better."

Dorfman says she is talking with several tribes and nonprofit organizations about taking over the program. St. Stephen's is also working individually with Kateri staff and residents to make sure they land successfully.

Kateri currently houses nine people, including a woman we interviewed with two school-aged sons. We're not naming her to protect her privacy. She says Kateri's family feel and emphasis on native culture has helped her recover in ways other treatment programs did not.

"Everybody wants to make sure our culture doesn't die and be a part of funding things for children, but I think the mothers are always overlooked because we're the first to teach a child," the woman says.

She added that she and other residents were blindsided by the closure announcement and are afraid of losing contact with their kids.

One of the organizations talking to Kateri is the Minnesota Indian Women's Resource Center (MIWRC).

MIWRC Executive Director Patina Park says her group has expertise in chemical dependency treatment, as well as family stabilization.

"You really have to have programming around that trauma, addressing that chemical use as well as empowerment, so that people can learn how to see a different life for themselves," she explains.

MIWRC has already embarked on a capital campaign. Park says she's been heartened and humbled by the outpouring of support so far.