Coalition Asks Judge to Invalidate Grizzly Endangered-Species Delisting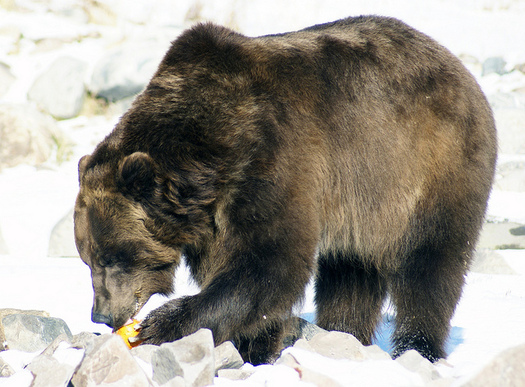 Grizzly bears occupy less than 5 percent of their historic range, conservation groups say. (Ellie Attebery/Flickr)
January 9, 2018
HELENA, Mont. – The U.S. Fish and Wildlife Service may be undermining its delisting of Yellowstone grizzlies as endangered species by reopening public comment on the decision.

A coalition of conservation groups and the Northern Cheyenne Tribe asked a federal judge Monday to invalidate the government's 2017 delisting while the agency reviews its decision.

Fish and Wildlife reopened public comment in December after a court ruling in a similar case prevented the delisting of gray wolves in the Great Lakes region. The court said the agency hadn't considered the effect of delisting on the broader recovery of endangered wolves.

Tim Preso is the Earthjustice attorney representing the coalition that wants the grizzly delisting scrapped.

"It's pretty clear under the law that an agency can't issue a decision, and then once it's challenged, go back to the drawing board and try to work up a new justification for that decision while leaving the decision in place," he explains. "If the agency wants to reconsider the decision, it needs to withdraw it."

When he announced it in July 2017, Interior Secretary Ryan Zinke hailed the grizzly delisting as a sign of "one of America's great conservation successes." But conservation groups say the species occupies less than five percent of its historic range in the lower 48 states. The delisting puts Idaho, Montana and Wyoming in charge of management.

Preso questions whether the piecemeal approach to delisting subpopulations of grizzlies is allowable under the law. And he says while the decision remains in place, states are drawing up hunting plans. A proposal to allow hunting of grizzlies in Wyoming currently is in the works.

"If the Service needs to reconsider the rule, it should withdraw it instead of allowing states like Wyoming to continue to rely on it to plan hunting that would remove grizzly bears," he says.

Fish and Wildlife says it will have a new review of Yellowstone grizzly delisting ready by March 31.
Eric Tegethoff, Public News Service - MT