Crowds Expected at Women's Marches in Las Vegas, Reno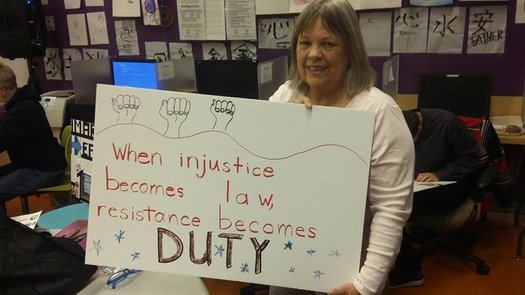 Organizers held sign-making parties this week to prepare for the Women's Marches. (Coalition for the Reno Women's March)
January 19, 2018
LAS VAGAS, Nev. – Millions are expected to take part in the 2018 Women's Marches across the country this weekend, including one on Saturday in Reno and another Sunday in Las Vegas.

They come on the first anniversary of the largest single day march in U.S. history, which took place the day after President Donald Trump's inauguration. Dozens of groups have banded together for the Nevada marches, with concerns about a wide range of issues.

Pat Lynch, an organizer with the Coalition for the Reno Women's March, says the administration's attacks on the Affordable Care Act are top of mind for many.

"Now literally, hundreds of thousands of people are not going to be given health care that did have it; and many, many, many people are going to die," says Lynch. "That should get everybody out of their seats. It could happen to any one of us."

President Trump has defended many of his policies as efforts to create jobs and improve security.

The Reno event starts Saturday at 11:30 a.m. at the Federal Building.

The Las Vegas event starts at 10 a.m. on Sunday, and it's a large production at Sam Boyd Stadium, with many nationally known speakers and celebrities, put on by the same people who ran the first march in Washington, D.C., last year.

Issues like DACA, tax reform, and rollbacks of environmental protections will be addressed. Beverly Harry, an indigenous communities organizer with the group PLAN Action – says Native American women are pressing their concerns as well.

"Missing and murdered Indigenous women was really important to them," says Harry. "Other key issues were the 'No Dakota Access Pipeline,' and health care, and a lot of environmental issues."

Organizers note that Nevada will be very influential in the 2018 midterm elections, as a swing state where the governorship, Dean Heller's Senate seat and all four congressional seats are on the ballot. In addition, half of the State Senate members and all State Assembly members are up for reelection.