After Changes, WV Surface Owners Group Supports Pooling Bill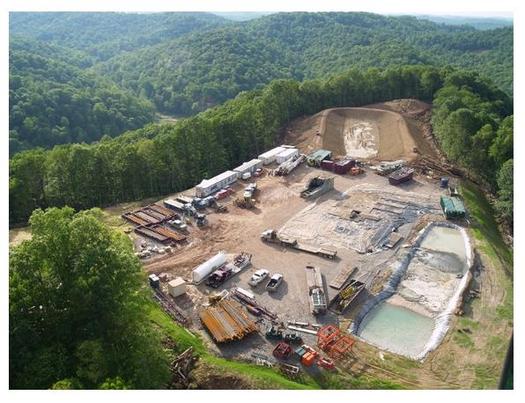 While West Virginia mineral owners often focus on getting a fair price from drillers for their natural gas, surface land owners are often more concerned about the impact of the big, industrial scale drilling operations. (WV Sierra Club)
February 15, 2018
CHARLESTON, W.Va. — After a contentious public hearing and changes by the House Judiciary Committee, a West Virginia surface owners group is now in favor of a gas-pooling bill.

A central provision of what supporters call co-tenancy legislation would let drillers take the natural gas from a lease if the driller gets approval from owners of three quarters of the mineral rights.

Dave McMahon, co-founder of the West Virginia Surface Owners Rights Organization, said Judiciary added a requirement that drillers get approval from surface owners if they use their land to get gas through pooling. He said pooling should mean a little less impact at the surface.

"If they can drill longer horizontal laterals, they need a few less surface pads," McMahon said. "Thirty percent of our members are mineral owners. We don't think it's so good for them, but on balance, we support the bill and hope that the Senate doesn't take those protections out."

Critics have long opposed what they call forced pooling because the gas of some mineral-rights owners could be taken without those owners' permission. They say even if those mineral owners would be paid, that's still taking their private property rights.

The legislation was sharply attacked at a public hearing before House Judiciary took it up, and lawmakers have struggled with the issue for years. The current legislation - House Bill 4268 - appears to be a complex, intensively negotiated compromise with very little wiggle room.

McMahon said they opposed the bill before Judiciary amended it. He said WV SORO and the other parties involved in the negotiations could well oppose the bill if it's changed by the Senate.

"I'm not sure that anybody wants to give any more on their issues," he said. "As the bill came out of House Energy, we did not support it. As the bill came out of Judiciary, it added an important surface protection."

The gas companies argue that mineral rights in West Virginia are often so fragmented that they have trouble finding and reaching agreement with all the mineral owners. They argue that without pooling, a lot of gas would be trapped by the situation.