Utah Unions Keeping Close Eye on U.S. Supreme Court's Janus Case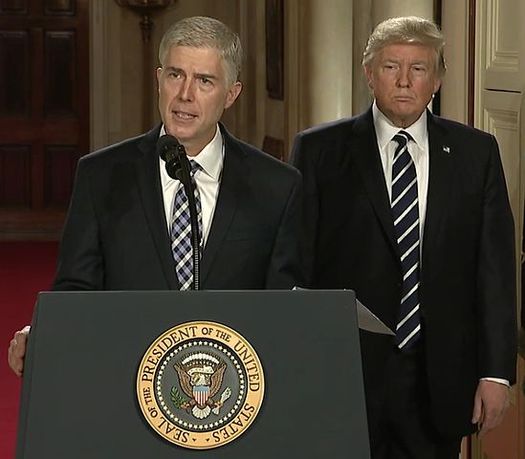 The addition of Neil Gorsuch to the U.S. Supreme Court could tip the scales in Janus v. AFSCME. (Wikimedia Commons)
February 26, 2018
SALT LAKE CITY – The U.S. Supreme Court is scheduled to hear oral arguments Monday in a case many say could determine the fate of the nation's unions.

Justices will decide whether or not Mark Janus, a public employee in Illinois, should be required to pay fees to the union that provides services for all public workers regardless of their union status, including contract negotiations and representing workers filing grievances.

Jeff Worthington, president of Utah's AFL-CIO, says workers who receive benefits from collective bargaining should pay their fair share for that work.

"We look at the Janus case as the opportunity for big corporations to basically try to break the unions," he states. "We believe in the unions for the good that it does for our working families all across the country."

Worthington says regardless of the outcome in Janus v. American Federation of State, County and Municipal Employees (AFSCME), unions will continue to work on behalf of all employees, but he acknowledges the move would mean a big blow to union revenue streams.

Janus' supporters argue that fair share fees amount to forced subsidization of unions, and violate workers' First Amendment rights.

In a 2016 Chicago Tribune opinion piece, Janus wrote, "The union voice is not my voice."

A ruling in favor of Janus is expected to kill fair share fees in 22 states.

Worthington says it's too early to write off the power of workers coming together to bargain for equitable conditions, and points to a list of advances made possible by unions, including child labor laws and weekends.

"From paid vacation, sick leave, eight-hour work day, overtime, pensions, safety laws, health care benefits, we lift the working class up to a living wage, you know, instead of working for minimum wage," he stresses.

In 2016, after the death of Justice Antonin Scalia, the Supreme Court reached a 4-to-4 stalemate in a similar case, Friedrichs v. the California Teachers Association.

Scalia's replacement, Justice Neil Gorsuch, is expected to side with Janus.