Major Fossil Find at Risk on Original Bears Ears' Lands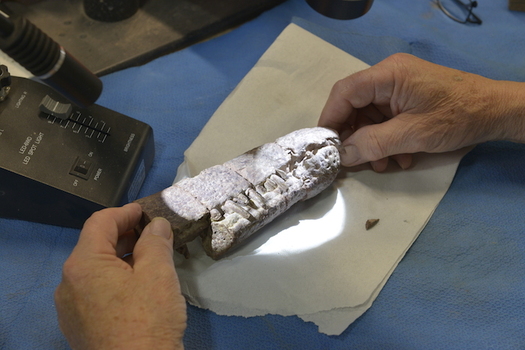 A site containing fossils dating back 220 million years could be at risk if efforts to shrink Bears Ears National Monument are successful. (The Wilderness Society)
March 5, 2018
ST. GEORGE, Utah - A team of researchers has uncovered what could be one of the world's richest caches of fossils dating back to the dawn of the age of dinosaurs. The site in southeastern Utah is within the original boundaries of Bears Ears National Monument, but would lose protections if the Trump administration succeeds in its plans to shrink the monument by 85 percent.

Rob Gay, a paleontology contractor for the Museums of Western Colorado, said the site already has produced several intact remains of crocodile-like animals known as phytosaurs.

"If you saw one of these creatures walking around today, you would think that it was a mutant crocodile," he said, "They were basically crocodile mimics with blow-holes. The ones we have at this site would have been about 15 to 20 feet long."

If the site can be fully excavated, he said, it's likely that many other intact specimens - and even new species - can be uncovered and studied.

In his December announcement on Bears Ears, President Donald Trump said natural resources should not "be controlled by a handful of bureaucrats in Washington, D.C." According to documents obtained by The New York Times, the potential for oil money influenced the administration's decision to shrink the monument.

Gay's initial work was made possible through a special Bureau of Land Management grant that funds research on national monuments and other national conservation lands. Under the smaller, newly drawn boundaries for Bears Ears, funding for work at the phytosaur site could be at risk. Gay added that losing monument status also leaves fossil sites open to collectors.

"Someone can legally remove fossil shells and fossil plants from our site now. All of those other fossils that aren't protected from collection now tell us about the history of the site, tell us what the environment was like 220 million years ago."

Several lawsuits have been filed challenging the decisions to shrink Bears Ears and cut the size of the Grand Staircase-Escalante National Monument by more than half. Gay's findings were made public at a recent Western Association of Vertebrate Paleontologists conference in St. George.