FL Students Compete in National Science and Math Competition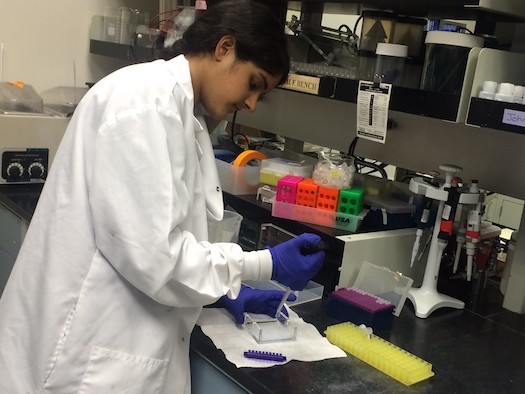 Haniya Shareef of Lincoln Park Academy in Fort Pierce works on her research in a lab for the Regeneron Science Talent Search. (Haniya Shareef)
March 12, 2018
TALLAHASSEE, Fla. — While many high school students are still learning how to properly fold laundry, 40 of the smartest students in the nation are in Washington, D.C., this week to show off their achievements and compete in science and math.

The Regeneron Science Talent Search is one of the nation's oldest and most notable competitions for young scientists. It started in 1942. Last year, Regeneron increased the amount of prize money for contestants, with more than $1.8 million in prizes - including $250,000 in scholarships to the grand prize winner.

Haniya Shareef, a senior at Lincoln Park Academy in Fort Pierce, said that while winning would be great, meeting and interacting with her fellow competitors already is a reward in itself.

"The students you meet here are just so different than your typical high school experience, and they teach you so much about what you actually don't know about the world, particularly in areas such as physics and chemistry," Shareef said. "There's just so much that they know that you perhaps won't know and you just learn from them every single day."

The event, which begins Monday, is very generous to its winners, giving $175,000 in awards to the second-place finisher and $150,000 for third place. Outside the top ten, each student will receive at least $25,000 in awards.

The projects that students submit to get to the Regeneron Science Talent Search are innovative and fresh ideas in the science world. From a smart microwave that can heat food to the perfect temperature to a form of artificial intelligence that detects gender bias on social media, the students' research tackles a wide range of issues.

Shareef's research concerns an invasive weed that she killed using fungus that can control the weed. Shareef explained that using a natural fungi eliminates a potentially dangerous problem.

"And the biggest thing about it is that since it's already present in the natural environment, and it's not like I'm introducing a new species to an ecosystem, since it's already present, I'm kind of bypassing the risk that would come with introducing a completely new species to a new ecosystem," she said.

Shareef is one of two students representing Florida in the Regeneron Science Talent Search. When she's not conducting groundbreaking research, Shareef loves to play tennis and instruments such as the euphonium and classical piano.