Gathering at Taos Plaza for Gun Violence Walkout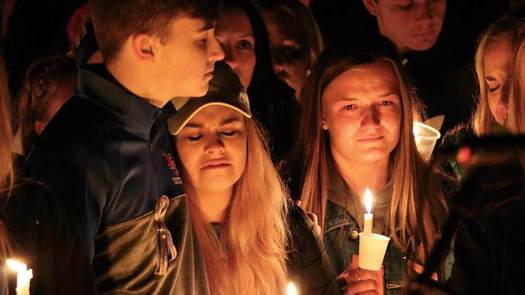 There are 2,000 registered school walkout events planned for today as part of the Enough is Enough movement. (npr.org)
March 14, 2018
TAOS, N. M. – Students, parents and spiritual leaders gather at the Taos Plaza today to show support for the 17 people killed in the Parkland, Fla., school shooting last month.

The latest mass school shooting has galvanized young people across the country and reignited debate over gun control. Schools in Taos are closed for spring break, but event organizer Jill Cline described a local groundswell to recognize the horror of school shootings.

"We've become so desensitized that sometimes, we really lose our ability to respond when it happens close to home," said Cline, who also is a youth minister at St. James Episcopal Church. "But I think people are really at that place of saying, 'I don't want it to happen close to home. I don't want it to happen anywhere.' And it's really sad when we have to look at a situation of saying, 'Well, it was only one or two,' before it becomes important."

Last December, the small New Mexico town of Aztec became the site of a school shooting when a 21-year-old gunman, pretending to be an Aztec High School student, killed two high school athletes before killing himself.

Many schools have discouraged students from joining the walkout, but there are 2,000 registered events nonetheless. Protests also are expected outside the White House and the U.S. Capitol.

Cline believes it's important to support students who want to voice their hopes and fears around gun safety.

"Even though we're on spring break, it seems like there are teens who want to support their peers in Parkland, and peers nationwide, who are stepping out of classrooms and taking 17 minutes for 17 deaths," she noted.

The gathering on the Plaza begins at 10 a.m. Another gun-control march is planned for Sat., March 24, in Washington, D.C., that could bring hundreds of thousands of students to the nation's capital.