Many NV Payday Lenders Not Compliant with Rules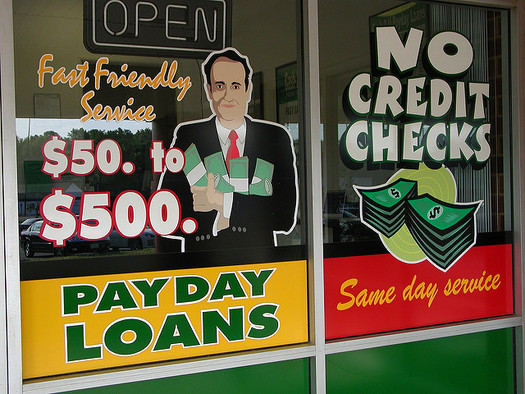 Short-term loans can become long-term cycles of debt when borrowers can't afford high-interest payments, consumer advocates say. (Taber Andrew Bain/Flickr)
May 14, 2018
LAS VEGAS — Nearly one-third of title-loan, check cashing and payday lending services in Nevada were rated "less than satisfactory" in a recent state audit of financial institutions.

Consumer rights attorneys say more should be done to regulate short-term, high-interest lenders in the state. More than 500 of these types of lenders hold licenses in Nevada.

Attorney Tennille Pereira said she often represents clients who borrowed from a high-interest lender because they were desperate, but then ended up trapped in a cycle of debt. She said a borrower might take out a loan from a second lender to pay off the first. Or a lender might roll over a borrower's loan into a new, bigger loan, rather than letting the borrower default on payments.

"These loans are supposed to be short-term loans, which is why the high interest is allowed," Pereira said. "There is absolutely no interest cap on these loans in the state of Nevada, so we have literally seen them up in the four digits on interest."

Fourteen other states have created databases to track payday loans to keep lenders compliant and keep borrowers out of debt. Pereira said she wants to see something similar in Nevada.

Pereira said a payday loan database would operate much like a credit report, giving lenders more financial background on borrowers to keep people from entering into risky loan agreements they can't afford.

"It would prevent individuals from getting numerous loans," she said. "It would prevent the rollover of loans. It would prevent them from going to multiple lenders."

For now, Pereira recommended consumers avoid high-interest lenders in Nevada. If you have no other options, she said borrow the smallest amount possible. And if you do default on a short-term loan, know that you have legal rights: You should be offered a repayment plan without having to take out a new loan.
Katherine Davis-Young, Public News Service - NV