NM's Sabinoso Wilderness Celebrated with Calls to Reauthorize LWCF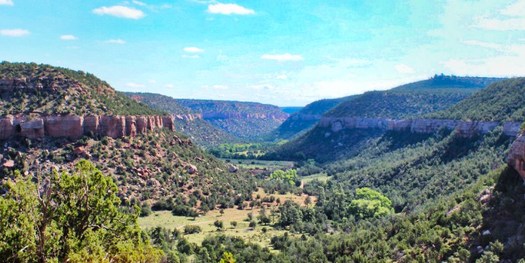 The Land and Water Conservation Fund helped negotiate a land donation to make New Mexico's Sabinoso Wilderness accessible to the public. (santafehorse.org)
May 29, 2018
ALBUQUERQUE, N.M. – New Mexico's Sabinoso Wilderness is being celebrated today, as conservation groups call on Congress to permanently authorize funding for a program that helped make the area accessible to the public. Sabinoso's 16,000 acres in northeastern New Mexico were fully surrounded by private land, making it inaccessible to visitors - until last year.

Susan Torres, communications director of the New Mexico Wildlife Federation says that's when a donation of private property was negotiated with help from the Land and Water Conservation Fund - opening the area to the public for the first time. Torres says the LWCF, which is now at risk of being eliminated, played a huge role in making the deal.

"Some of the money from that program goes to make these public lands accessible, which is one of the reasons the Land and Water Conversation Fund is so important," she says.

And yet, the fund expires on September 30, and Congress hasn't acted to fully fund or permanently reauthorize it.

Today, Senators Tom Udall and Martin Heinrich, along with wilderness and conservation groups, attend a public event at the Petroglyph National Monument Visitor Center. They'll celebrate Sabinoso as accessible wilderness and note the role played by the LWCF. The event begins at 11 A.M.

The Land and Water Conservation Fund was created by Congress in 1964 with bipartisan support to provide funds and matching grants to federal, state and local governments. Torres says the program has helped protect such cultural and archaeological sites as the Gila National Forest, Petroglyph National Monument - and now, Sabinoso.

"And it's just an amazing place to go hunting, or hiking or camping; it's kind of this pristine wilderness that hasn't really changed in hundreds of years," she adds.

Since 1965, New Mexico has received more than 1,000 state and local grants from the LWCF totaling over $43 million and touching every county.