Photo Exhibit Highlights Contributions of Immigrants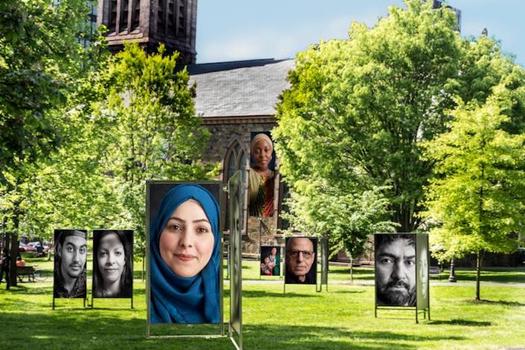 The exhibit, "We Are: A Nation of Immigrants," will be on the New Haven Green through mid-August. (Joe Standart)
June 8, 2018
NEW HAVEN, Conn. – We are a nation of immigrants – that's the message of a photography exhibit opening this evening on the historic New Haven Green.

The 58 large portraits of local immigrants and refugees are displayed in free-standing steel frames on the Green, and as murals on the exterior walls of churches and other buildings. They celebrate the rich diversity and immense contributions of immigrants to this country.

Photographer Joe Standart hopes his work will help counter some of the current anti-immigrant rhetoric.

"To portray them as they are," says Standart. "A very dignified, proud group of people who have endured great hardship, in many cases had to flee their country under threat of losing their life, not as rapists or criminals."

Among those attending the opening at 6:00 p.m. Friday will be Sen. Richard Blumenthal, D–Conn., and Rep. Rosa DeLauro, D–New Haven. The exhibit is free and open to the public.

Standart says the placement of the photographs on the Green is to emphasize that this is a nation of immigrants, and there's a message in the use of locations on building walls too.

"It's on the walls of three churches, which is an important statement just for the role the churches play in welcoming and protecting people," says Standart.

The exhibit, part of New Haven's International Festival of Arts and Ideas, will be in place through mid-August.