NC Could Tip the Scales Towards Ratification of Equal Rights Amendment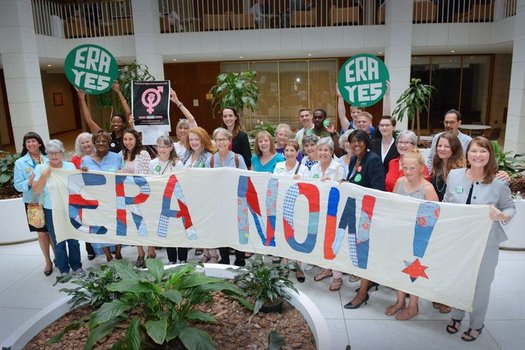 The ERA NC Alliance recently gathered in Raleigh for an advocacy day to urge lawmakers to pass the Equal Rights Amendment. (ERA NC Aliiance)
July 2, 2018
RALEIGH, N.C. — North Carolina is poised to make history. Thirty-seven states — most recently Illinois — have ratified the Equal Rights Amendment, which has been more than 40 years in the making.

There is a renewed push to call on state lawmakers to ratify the ERA, which many think either already has been passed or isn't needed, said Roberta Madden, co-president of the ERA North Carolina Alliance.

"We have a problem with perception. We need to get people to understand that equality of rights for women is not in the Constitution," Madden said. "Any law that has been passed can be taken away, and we've seen that happen on the federal and state levels. "

According to the ERA Coalition, 80 percent of those polled in 2016 said they believed men and women already are guaranteed equal rights under the U.S. Constitution. In the same poll, 94 percent were in favor of the amendment.

There are currently bills in committee at the State Assembly which could lead to passing the ERA in the Tar Heel State in this session.

In addition to having legislation poised for a vote in this session, Madden said, North Carolina has a long history of activism.

"We have such a dedicated group of volunteers. We have a lot of people who really care deeply about it," she said. "I am one. I've been working on it for 46 years. I've been working on it for 46 years, ever since it came out of Congress. And we feel very strongly that women's rights ought to be enshrined in the U.S. Constitution."

Ironically, North Carolina was in a similar position in 1920 with the 19th Amendment, which granted women the right to vote. The state could have cast the final required vote, but it was abandoned by lawmakers. Tennessee eventually cast the final vote.

Arizona and Virginia also are poised to pass the ERA in coming months.

Reporting by North Carolina News Connection in association with Media in the Public Interest and funded in part by the Park Foundation.