Survey: Oregonians Could Do More to Protect Online Privacy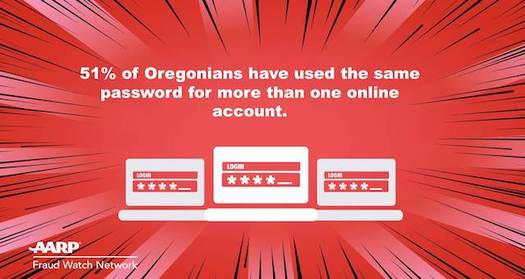 Oregonians can use digital password managers to better protect their online accounts. (AARP Fraud Watch Network)
September 20, 2018
PORTLAND, Ore. — A new survey reveals Oregonians are unwittingly exposing themselves to internet fraud - but the keys to protecting their identities might also be online.

The report from AARP Oregon found more than half of people said they use the same password for more than one online account. And, while more than 40 percent report seeing fraudulent charges on their banking accounts, only 13 percent have ordered a freeze on their credit.

Carmel Snyder, advocacy and outreach director at AARP Oregon, said fewer than half of survey respondents said they do their banking online. She hears from people who believe not creating online accounts is safer, but she said they should think again.

"Setting up digital access to your accounts will actually help you better monitor and fight back against fraud," Snyder said. "That's because scammers can easily use your personal data to open up accounts in your name."

With a deluge of data breaches at Equifax, Target and Home Depot, Snyder said she understands why people might feel like protecting themselves online is a losing battle. However, she stressed the need to be proactive with digital privacy.

For the majority of Oregonians who use the same password for multiple accounts, one idea is to use an online password manager that creates hard-to-crack passwords for each account.

Snyder said if people don't want to use these managers, they should at least make a habit of changing their email password regularly.

"Think about everything that goes into your email, whether it's your electric bill, whether it's your credit card information or anything like that," she said. "If it's going to your email, somebody else has access to that if you don't have a strong password and aren't monitoring what's going on."

Snyder added that people who see fraudulent activity in their bank accounts should order a credit freeze right away. Thanks to legislation passed by Congress in May, Americans will be able to freeze and unfreeze their credit free of charge starting this Friday, Sept. 21.