For Wash. Medical Professionals, Carbon-Fee Initiative Is a Health Initiative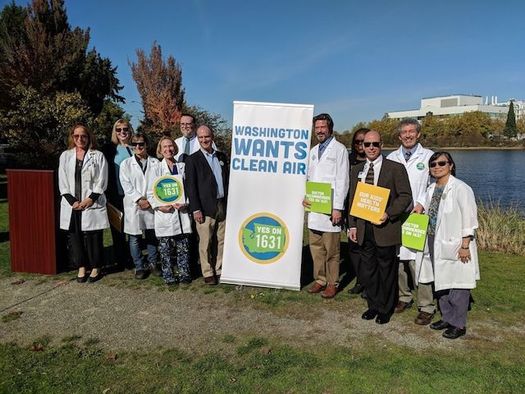 The Washington State Medical Association, the state's largest physicians' organization, is supporting the carbon pollution-fee initiative. (Clean Air Clean Energy WA)
October 22, 2018
SEATTLE — Medical professionals across Washington state say they are supporting the carbon pollution fee ballot initiative not just because it combats climate change but also because it will improve people's health.

Initiative 1631 would put a fee on the state's largest polluters, such as oil companies, and use that money to invest in things such as clean-energy infrastructure and helping communities prepare and recover from wildfires. Last week, the state's largest physicians' organization, the Washington State Medical Association, announced its support for the initiative. The group's president, Doctor Thomas Schaaf said he and other doctors have witnessed the health effects of climate change-driven wildfires.

"My family physician colleagues are seeing more problems with asthma, heart disease, emphysema, hospitalizations from this," Schaaf said. "In my world, we noted a significant increase in deaths with our hospice clients."

The fee is predicted to raise more than $2 billion in its first five years. It's designed to reduce carbon pollution by 25 million tons a year by 2035. Opponents say the measure won't be effective at cutting carbon pollution.

UFCW 21, which represents nurses and health professionals and is the largest private-sector union in the state, also is supporting the initiative. Patricia Brown is a nurse at Tacoma General Hospital who cares for newborns. She said babies are sensitive to pollution and the state needs this initiative to clean up the air.

"They're at risk because they're new and young at breathing and taking in air, and if the air is polluted, that's not going to help their situation," Brown said.

Carrie Nyssen, advocacy director with the American Lung Association, said climate change is one of the greatest threats to public health. And she said the state needs to take action now to deal with its effects.

"We need to do this for our health, and it's not just for our own health. I think of the future generations, and I just want to make sure that we leave this planet in better shape than when we found it," Nyssen said.