Young Leaders, Racial Justice Focus of WI Sustainability Summit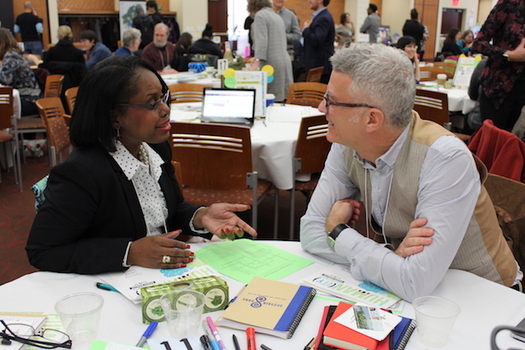 Sustain Dane's 10th annual summit this year is focused on lifting up historically marginalized voices in the sustainability movement. (Sustain Dane)
October 26, 2018
MADISON, Wis. – Sustainability advocates gather next week at the University of Wisconsin for their annual meeting. The organization Sustain Dane holds its tenth annual summit next Friday to share ideas for creating a sustainable future, and this year the group honors local leaders under age 30 in the Madison area.

Lucy Marshall, communications manager with Sustain Dane, says racial justice is a core component of the group's mission. She says the committee that developed this year's summit wanted to make sure that historically marginalized voices in the movement were heard.

"We need a lot of fresh new ideas, inspiration, as well as lifting up a lot of the amazing voices, leadership and resilience that communities who are often not at the center of leadership in the sustainability movement have been doing for years," says Marshall.

The Sustain Dane Summit takes place all day November 2nd on the University of Wisconsin campus and is open to the public. Keynote speaker is Victoria Barrett, one of the plaintiffs in a lawsuit brought by Our Children's Trust, suing the federal government for its inaction on climate change.

Sustain Dane is also honoring its 2018 "Live Forward" awardees, including Donale Richards. Richards manages Off The Block Enterprises, a program for African-American youth that's developed an urban farm-to-table business making salsa and pizza.

The goal of the business is to become completely self-sustaining. Richards says it's important to involve young African-Americans, because their voices usually aren't included in the sustainability movement.

"The first step in the process of sustainability is realizing how close together we really are," says Richards. "Rather than highlighting all of our differences, we need to really figure out how close our lives are together, but figuring out a sustainable system that can work for everyone."

Other awardees include Devon Hamilton with the Michael Fields Agricultural Institute, who teaches young people about the food system and racial justice; and Alex Lindenmeyer, co-founder of Short Stack Eatery, a Madison restaurant that focuses on sustainability and inclusivity.
Eric Tegethoff, Public News Service - WI