Study: Female Healthcare Workers Short-changed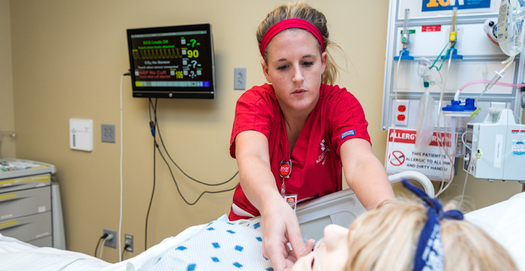 Healthcare occupations are projected to make up about 14 percent of South Dakota's projected workforce by 2024. (University of South Dakota)
January 7, 2019
SIOUX FALLS, S.D. — About three-quarters of the people working in healthcare jobs are women, and many of them are living below the poverty line, with low wages and few benefits, according to a new national study.

Researchers found 34 percent of female healthcare workers made less than $15 an hour in 2017, including nearly half of black and Latina women in the health sector. Kathryn Himmelstein, a lead author of the study, said nurse's aides, medical assistants, dietary workers and cleaners are essential to the healthcare workforce, but are compensated at much lower rates due to the gender and racial divides.

"A much larger share of men in health care work as physicians and managers, and a larger share of women work as nurses and nurses' aides," Himmelstein said. "And then, the occupational structure is racially stratified."

In total, the study estimated 1.7 million women in health care and their children live in poverty. Himmelstein recommend raising the minimum wage to address this income gap, something South Dakota did on January 1, from $8.85 an hour to $9.10 an hour.

The largest share of workers making $15 per hour or less work in home health care and at nursing homes and other residential care facilities. Himmelstein said paying more than $15 per hour would decrease poverty substantially.

"It would reduce poverty among women healthcare workers by up to 50 percent," she said. "And the costs associated with that are relatively modest - so, less than 1.5 percent of total healthcare spending."

The research team - from Massachusetts General Hospital and the University of Pennsylvania - analyzed 2017 Census Bureau data, and more than 10,000 healthcare workers responded to an economic supplement. The results are in the January issue of the American Journal of Public Health.

More information on the study is available here.
Roz Brown, Public News Service - SD