Effort to Protect Endangered Montana Prairie Blooming Again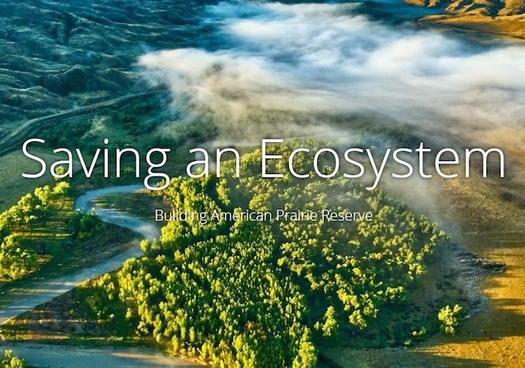 The American Prairie Reserve is looking to connect and protect more than 3 million acres of Montana prairie land. (American Prairie Reserve)
May 30, 2019
BOZEMAN, Mont. – Spring is alive on the prairie in Montana, and so is a project to safeguard this unique environment, one of the most threatened and least protected landscapes in the world.

The American Prairie Reserve is working to connect and restore more than 3 million acres of the ecosystem in north-central Montana.

A new map on the reserve's website explores the patchwork of ownership for the region, which includes management by federal and state agencies, and land deeded to the American Prairie Reserve.

Beth Saboe, the group's senior external relations manager, says the online maps offer a way to better understand the reserve.

"We have a really unique conservation model with a public-private collaboration," Saboe says, "and as you scroll through the story map, it gives you the details on how we are working with all different types of agencies to create this reserve for people and wildlife."

The land is located between Lewistown and the Fort Belknap Reservation.

Its current protections include more than a million acres of the Charles M. Russell National Wildlife Refuge, 375,000 acres of the Upper Missouri River Breaks National Monument, and more than 90,000 acres of deeded land purchased by the American Prairie Reserve, which is tied to more than 300,000 of grazing leases on adjacent public lands.

Landscapes like this are in decline, according to Saboe, who says globally, fewer than 2 percent of prairies have been permanently conserved.

"Because of that, numerous species and ecological functions have been dramatically reduced and are in serious peril," she warns. "So, it's incredibly important that we work to save this part of north-central Montana. It's one of only four remaining areas of prairie that is still possible for this large-scale conservation effort."

The prairie also is home to such iconic species as bison, prairie dogs and pronghorn, all of which have faced devastating population losses over the past century.

Saboe says protecting and restoring these species is a critical part of the American Prairie Reserve's mission.

"Conserving land is only the first step to saving this whole ecosystem," she says. "You need to restore robust populations of native wildlife that existed there."

She adds spring and summer provide an opportunity for Montanans to explore this unique landscape.


Disclosure: American Prairie Reserve contributes to our fund for reporting on Endangered Species & Wildlife, Public Lands/Wilderness, Sustainable Agriculture. If you would like to help support news in the public interest,
click here.