WV Internet Voting Experiment Criticized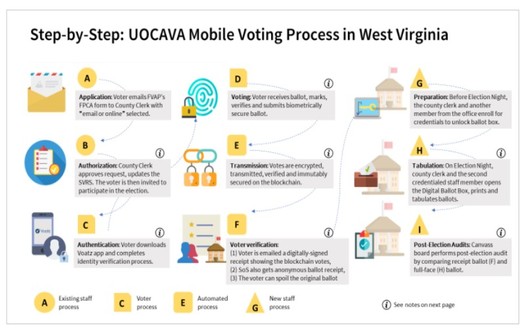 The experimental West Virginia blockchain voting process includes a series of steps aimed to ensure proper voter identification. (SOS Office/Voatz)
July 29, 2019
CHARLESTON, W.Va. – Security experts are critical of a West Virginia experiment in Internet voting for military and overseas citizens.

Last year the Secretary of State's office allowed 141 West Virginians in 31 counties to vote, using what's known as blockchain – the same distributed ledger system cryptocurrencies such as bitcoin use.

In an article for Slate magazine, tech reporter Yael Grauer criticized the contractor for being secretive.

Among other points, Grauer also questioned whether the use of blockchain really helped secure the voting, or if the experiment just used a fad technology as a kind of marketing.

And Grauer pointed to a weak link.

"Everybody who's sent email probably knows that they don't always go through," she points out. "And after they receive it they're putting it on the blockchain, but there's no way for voters to be able to check whether what they voted on is in the blockchain the way that they voted on it."

The contractor, Voatz, replied in its blog, saying its voting security was better than the Slate article described. The company also said it kept many details secret for commercial reasons.

A central point for Grauer is lack of a voting paper trail.

That's something Mike Queen, deputy chief of staff and director of communications for the West Virginia Secretary of State's office, recognizes, although Queen says his office feels blockchain could still be an improvement over voting absentee by mail or fax for folks serving overseas.

"Is it as safe and secure as a paper ballot voted in a precinct?" he questions. "Probably not, but Secretary Warner is not, and will not, advocate for mobile voting as a mainstream form of voting."

In a blockchain, numerous computers keep identical records of the same transaction. But Grauer says in Voatz' system, that record would largely be on the company's servers, defeating the purpose.

And she says Voatz should let security experts know more about its process.

"Is this an excuse?" she raises. "What are you hiding that you can't share information with people about? And I know Voatz does share it with the governments, but they're not necessarily sharing it with people who have the technical expertise to be able to find holes in it."