Virginia Suspends Evictions During Coronavirus Crisis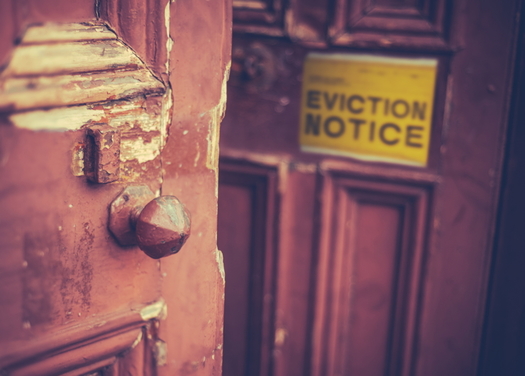 Hundreds of Virginians are evicted from their homes every day. (Adobe stock)
By Diane Bernard, Public News Service - VA - Producer, Contact
March 18, 2020
RICHMOND, Va. -- Virginia joins a growing number of states and cities across the nation halting evictions in response to potential lost wages during the new coronavirus crisis.

Christie Marra, the Virginia Poverty Law Center's director of housing advocacy, said the Commonwealth's three-week ban will protect tenants in a state known for some of the highest eviction rates in the country. She said hundreds of Virginians are evicted every day, which is especially dangerous during a pandemic.

"If those people continue to have to go to court right now, with the public health crisis that we are experiencing, the ability of Virginia to contain or mitigate this crisis will be severely compromised."

She said the temporary ban is only for new eviction cases. A spokesman with the Central Virginia Apartment Association urged renters to communicate with their landlords and housing managers during the coronavirus outbreak if they think they can't make rent by April 1.

Richmond's eviction rate was more than 11%, three to four times the national average, according to a 2018 study, and five Virginia cities are on the top 10 list for most evictions in the nation, Marra said. She pointed out that housing is a critical issue when state and federal governments are ordering folks to practice social distancing.

"There are already homeless folks in the state of Virginia," she said. "If in fact they are infected, it could be really catastrophic to add to that population all of the people who may be evicted."

The Commonwealth joins North Carolina, Maryland and many U.S. cities -- including New York and Los Angeles -- in delaying eviction actions until the COVID-19 crisis subsides. Virginia's delay is part of a "judicial emergency" declared by the state Supreme Court to ease courthouse traffic during the pandemic.

The Eviction Lab study is online at evictionlab.org, and the Supreme Court of Virginia Judicial Emergency notice is at courts.state.va.us.