Teachers' Union Issues Recommendations for NY Public Schools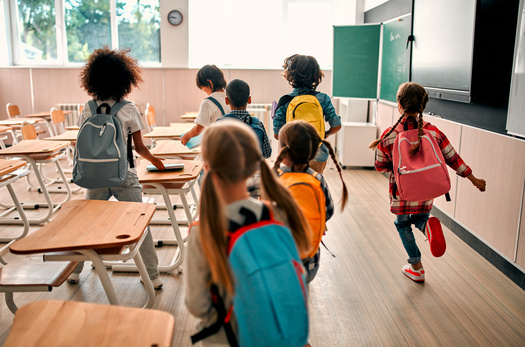 ALBANY, N.Y. -- New York State United Teachers (NYSUT) has released a new report this week, with recommendations from educators about how best to shape the future of public education in the state.

Andy Pallotta, president of NYSUT, said the union's Future Forward Task Force is suggesting deeper state investments in schools rather than returning students to pre-COVID standards.

He contended it means doing more to meet students' social and emotional needs by funding more school counselor positions.

"Some of the ratios are tremendously high in the state, and we'd love to see those come down, in a big way," Pallotta explained. "Like, let's not just make it one to a thousand or one to 500. Let's try and get it one to 250 students, one to 200 students."

He added cities in New York could be using leftover federal pandemic relief money to fund positions in their school districts. NYSUT also wants state lawmakers to enact minimum employment standards for critical staff, in positions like school social workers, psychologists, counselors and nurses.

As a former New York City educator, Pallotta argued counseling positions were vital to students' well-being.

"When we hired social workers in the school that I worked in, things improved," Pallotta recounted. "There was reach-out, The students had someone to turn to beside the teacher, who has maybe 30 other students in the classroom."

He noted it is especially important with educators across the board reporting burnout in the pandemic.

The report also suggested more districts create "community schools," which coordinate additional food and health services to help connect children and their families.

Pallotta pointed to the Rome Connected Community Schools program as one example.

"They have a food pantry, and they have health services for the children in the school buildings, partnerships with hospitals, and young people can go in and pick out clothing that they would need," Pallotta outlined.

NYSUT recommended new annual state funding of $100 million to create more community schools. According to the report, out of about 730 districts in the state, just under 300 use the model.


get more stories like this via email
Environment
Nevada is set to lose 8% of its Colorado River water allotment next year because of perilously low water levels at Lakes Mead and Powell caused by a 2…
Environment
Although President Joe Biden has signed the Inflation Reduction Act into law, many are hoping he will declare a climate emergency to provide further …
Environment
The Bureau of Land Management is kicking off its planning process for managing Grand Staircase-Escalante National Monument with several public hearing…
Social Issues
The midterm elections are less than three months away, and in Iowa, recruiting continues for those interested in helping at polling sites, where the …
Social Issues
President Joe Biden signed the Inflation Reduction Act into law Tuesday, providing a means for making prescription drug prices more affordable in the …
Health and Wellness
A relatively new virus known as monkeypox has made its way to the state of Washington. About 280 cases have been reported, with 240 occurring in King …
Health and Wellness
Coloradans struggling economically put their health at risk when they decide not to turn on cooling systems, frequently out of fear of not being able …
Social Issues
By Andrew Kuder / Broadcast version by Mary Schuermann reporting for the Kent State-Ohio News Connection Collaboration. Sam Lawrence is running for …