ND Teacher: Student-Loan Forgiveness Recognizes Public Servants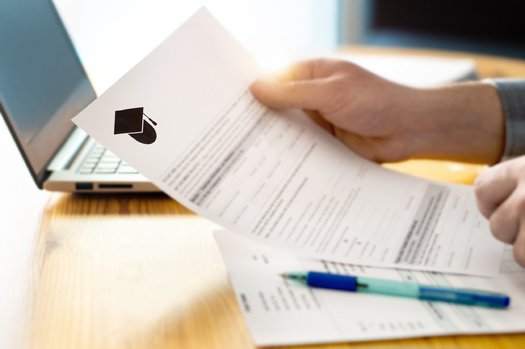 The White House is fielding pitches from top Democratic lawmakers about their desire to dramatically expand student loan forgiveness.

While a politically divisive topic, the idea has support in North Dakota, especially from those teaching future generations of professionals. The Biden administration has been considering whether to take executive action on canceling student loan debt, with possible income caps and other eligibility requirements.

Cody Mickelson, a teacher at Jamestown High School, said while his loans were not as much of a burden compared with younger teachers, he feels action is needed.

"I think it's a great opportunity for our country to invest in itself while also getting something out of that investment," Mickelson contended. "Because let's face it, student loan forgiveness doesn't mean I'm gonna go and waste my talents if I'm forgiven for those loans. It's just gonna help me believe that my country believes in me."

He emphasized if teachers feel supported, it bodes well for schools and students.

The North Dakota AFL-CIO said overwhelming debt blocks pathways toward the middle class. While some Democrats want debt as high as $50,000 canceled, the administration views a lower threshold. Skeptics say it is not fair to workers without loans or those who have paid them off, while arguing taxpayers could see a ripple effect.

Mickelson also is president of the Jamestown Education Association. He noted even though there are existing forgiveness programs, there are barriers in states such as North Dakota to make them work. He added aspiring teachers need fewer headaches in pursuing their dreams.

"It's not helpful when the price of college becomes prohibitive to good people wanting to do something for either themselves, their country or the students in our country," Mickelson asserted.

He stressed teachers like him have to go through extra hoops to take advantage of existing relief if they have their loans through the Bank of North Dakota. According to industry trackers, North Dakota and Mississippi are the only states without a dedicated student-loan forgiveness program.


get more stories like this via email
Environment
A new study is focused on concerns for Nebraska waterways. The three-year, independently funded research identifies rising levels of phosphorus and …
Health and Wellness
Inside a massive appropriations bill now in Congress is a provision which would allow federal funding for dental therapists. Dental therapists …
Environment
Promoting access to nature for underserved communities can improve quality of life while bolstering biodiversity and fighting climate change…
Social Issues
This holiday season, shopping at local small businesses could bring them as much as $88 billion, according to a survey from Intuit QuickBooks…
Social Issues
Minnesota's projected budget surplus now stands at more than $17 billion, and supporters of clean energy projects and other infrastructure needs say …
Environment
With Montana lawmakers looking at a large budget surplus, a group of hunters, scientists and landowners is asking them to consider creating a trust …
Environment
The Iowa Watershed Planning Advisory Council just released its annual report and said the Iowa Water Plan needs an update. The report showed climate …
Social Issues
By Phoebe Petrovic for Wisconsin Watch.Broadcast version by Mike Moen for Wisconsin News Connection reporting for Wisconsin Watch-Public News Service …