Latino Leaders Celebrate Colorado River Heritage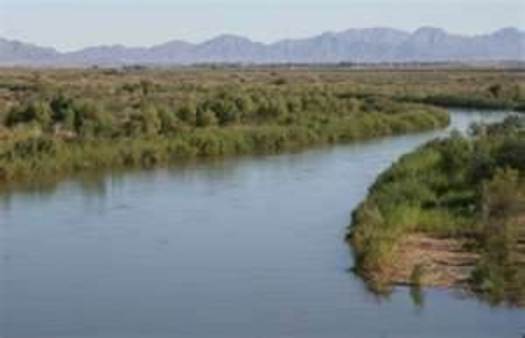 Colorado River near Yuma. Photo Credit: California Blog
October 11, 2012
PHOENIX, Ariz. - Preserving the Colorado River was the focus of Wednesday's gathering of Southwestern Latino leaders in Yuma. The event was a celebration of Hispanic Heritage month, iconic labor leader Cesar Chavez and the river itself, which is slowly drying up due to over-consumption, drought and climate change.

Sal Rivera, Arizona coordinator for the group Nuestro Rio (Spanish for "our river"), says the Colorado has been used for centuries by Latinos for agriculture and recreation.

"It has been an important part of our heritage, like for all Americans, but we want to celebrate that heritage and really talk about how it's important also to our community, and how our community is committed to conservation and preservation efforts, also."

The Yuma meeting was held near the birthplace of Cesar Chavez, who spent the first 10 years of his life close to the confluence of the Gila and Colorado Rivers. The U.S. Department of the Interior is expected to issue a final report next month on a major study addressing the supply and demand imbalance on the Colorado.

A new poll commissioned by Nuestro Rio shows that three out of four Latino voters registered in Arizona believe it's very important to protect the state's rivers and lakes for the environment's sake and for family recreation, and four out of five believe conservation is the best strategy.

"A lot of Arizonans think of the Colorado as a mighty river that's going to be there forever and is part of our heritage. When they start learning that we have to be proactive to conserve and preserve it, they get on board and understand that, overwhelmingly, this is something they want to support."

To correct the imbalance between the use of the Colorado River and its water supply, Rivera says Nuestro Rio supports cost-effective conservation measures like improving agricultural efficiency, water-banking and urban conservation strategies such as low-flow plumbing fixtures, shorter showers and swimming-pool covers.

"Some old ideas have been out there for a long time, but those things work. If we could get more people to do those simple things, there can be major progress made without having any significant impact on our quality of life."

Rivera says the Colorado River is crucial to the state's economy, watering 85 percent of all the irrigated agriculture acreage in Arizona, supporting at least 82,000 jobs in the state and providing drinking water to 6.6 million Arizonans.

The full poll results are available at www.latinodecisions.com.