Michigan NOW: Lame Ducks Aim at Women's Reproductive Rights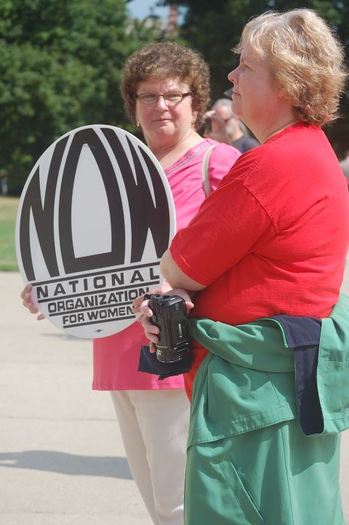 PHOTO: Mary Pollock at a State Capitol protest last summer. Courtesy of Michigan NOW.
November 27, 2012
LANSING, Mich. - State lawmakers begin their lame-duck session today and the Michigan chapter of the National Organization for Women says its members will be watching closely. Mary Pollock, legislative vice president of Michigan NOW, describes the session as "dangerous."

"This legislature is in danger of limiting women's rights to their reproductive decisions."

Just last week, Pollock testified against a bill in committee that would have made Michigan the first state in the nation to give tax credits for fetuses. Its sponsors say it was meant to support pregnant women, but Pollock sees it as an attempt to give legal recognition to unborn children, much like the so-called "personhood amendments" proposed in other states. It didn't come to a committee vote, but Pollock says there are other anti-abortion bills ready for action if lawmakers decide to take them up.

Pollock sees it as ironic that lawmakers who were trying to give tax credits for fetuses had just taken them away for children.

"Now, this is the same committee, the Michigan House Tax Policy Committee, that voted on and abolished the child tax credit of $600."

While the fetal tax credit went nowhere, Pollack says she's concerned about an abortion clinic regulation bill that did make it through committee and passed in the House.

"It would close all but one clinic in Michigan, because it would require all abortions to be performed - medical abortions or surgical abortions - to be performed in a free-standing, outpatient facility."

Supporters of the legislation say they're trying to protect women by making the facilities safer. Opponents say it's more proof that women's rights are at stake in the lame-duck session.

Bills in question are HB 5711, HB 5684, HB5685.

More information is at www.michnow.org.