Protecting New Mexico Water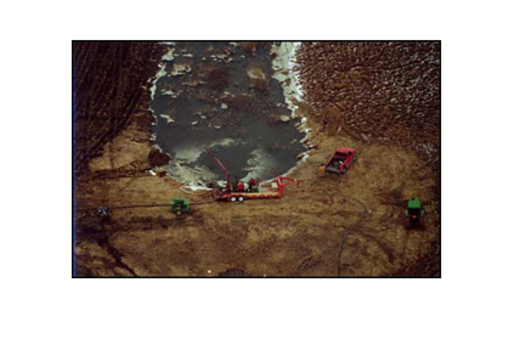 Aerial view of a manure spill at a factory farm.
Photo Credit: Socially Responsible Agricultural Project www.sraproject.org
January 28, 2013
SANTA FE, N.M. - The Citizens Coalition (made up of Amigos Bravos, the Rio Grande chapter of the Sierra Club and Caballo Concerned Citizens) is troubled by the direction being taken by the New Mexico Environment Department and the Water Quality Control Commission (WQCC) in connection with groundwater. Two industries, in particular, are the focus of recent concerns: the dairy industry and the copper industry.

Rachel Conn, projects director with Amigos Bravos, says both are polluters that require regulation, but the WQCC appears to be leaning toward rule relaxation. If people picture a dairy farm as rolling green hills and black-and-white cows grazing among the dandelions, it's time for an update, Conn says.

"These are large-scale dairies, often called confined animal feeding operations (CAFOs)," she explains. "They have thousands of cows confined in very small areas, standing on top of their waste. And that waste is directed into sludge sewage ponds - often unlined, here in New Mexico."

Many New Mexico dairy farms contribute to groundwater pollution through runoff, she adds. The regulations now known as the "Dairy Rule" are being undermined by the dairy industry and the WQCC, she warns, following a meeting earlier this month when the agency agreed to reconsider existing regulations.

Dan Lorimier, the conservation coordinator for the Rio Grande Chapter of the Sierra Club, says groundwater quality may be sacrificed as a result of government getting too cozy with industry.

"Those lobbyists, which have been welcomed to the fourth floor by the governor ever since her inauguration, have unfortunately been making public policy. We'll be working to make sure that this industry isn't running our government."

In addition to dairy waste, there's pollution from copper mining to consider, Conn adds.

"We have some very large copper mines here in New Mexico," she points out. "They are massive, open-pit operations - pits in the ground and big piles of waste with rock - and they have a large impact on groundwater pollution."

Conn says the copper mines have polluted to such an extent that in order to control the contamination, it will be necessary to pump and treat water under certain parts of these mines far into the future.

The Citizens Coalition was asked to participate in the process to develop copper-specific rules. However, Conn says, what has come out of that process from the New Mexico Environment Department is a rule that allows violations of the state's water quality standards. In fact, she says, the agency has put forth a proposed rule that looks like a copper-industry wish list.



Renee Blake, Public News Service - NM