Push for Minimum Wage Hike Nationally and in Minnesota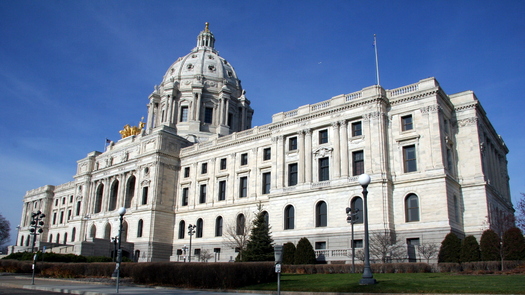 PHOTO: Introduced Wednesday at the State Capitol, the Family Economic Security Act would raise the minimum wage in Minnesota to $9.50/hour and provide all eligible families with child care assistance.
February 14, 2013
ST. PAUL, Minn. - Hours after President Obama announced his support for raising the national minimum wage, a bill was introduced Wednesday at the State Capitol seeking to hike the minimum in Minnesota.

The proposal would raise the bottom wage to $9.50 an hour, and Kris Jacobs, executive director of the JOBS NOW Coalition, said the increase is long overdue.

"Because the minimum wage, had it kept pace with inflation, would be $10.58 an hour now, and nearly a half-million jobs in Minnesota pay less than $10 an hour," she said. "If this raise goes through, about $300 million a year would be pumped into the Minnesota economy."

The bill would also add an inflation index to the minimum wage, so it would rise to keep pace as the cost of living grows. Those opposed to increasing the minimum say it would lead employers to cut jobs. The national minimum is $7.25 an hour, which overrides the lower state-mandated $6.15 an hour.

Another key component of the Family Economic Security Act is expanding the state's child-care assistance program. It has a waiting list of more than 6,000 people who are eligible, but there isn't enough funding to cover them.

Brian Rusche, executive director of the Joint Religious Legislative Coalition, said the cost of child care can be a major burden, especially for the working poor.

"Right now around the state there are thousands of families on waiting lists," he said. "They are eligible, but they don't get any help. So, what our bill does is ask the state to provide child care assistance to all the families that are eligible and want to participate."

Combining the child-care assistance with the minimum-wage hike and a couple of changes to the tax code to make it more friendly to working families, Rusche said, will help lift hundreds of thousands of Minnesotans out of poverty.

"You should be able to, through your labor, provide food and shelter and necessities for your family," he said, "so it basically rights the ship from an economic justice standpoint. It really says, 'Work pays. Work can provide for a family budget.' "

The policies in the Family Economic Security Act are recommendations made by the bipartisan Legislative Commission to End Poverty in Minnesota by 2020.

More information on the legislation, HF 430 and SF 399, is online at house.leg.state.mn.us.