NC Organic Farms Feel Threatened by Agriculture Bill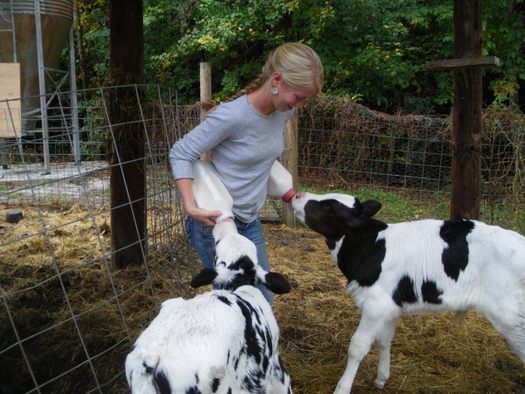 Photo: Organically fed cows at Hickory Nut Gap Farm. Courtesy: Hickory Nut Gap Farm
April 15, 2013
FAIRVIEW, N.C. - North Carolina's organic farmers are concerned about their livelihood because of a bill proposed in the North Carolina House. House Bill 379 places the State Board of Agriculture in control of commercial planting in the state, and would prevent local cities and counties from passing laws protecting organic farms in their communities. The bill has support from large biotech companies that make genetically modified seeds.

Jamie Ager owns Hickory Nut Gap Farms, one of almost 200 commercial, organic farms in North Carolina. For four generations, his family has raised organic meats and fruits for consumers in the western part of the state. He believes his farm and those like his are at risk because of House Bill 379. Ager gave voice to his frustration.

"Stay out of the way," he warned. "You know, we don't need more regulatory burden on creating a food system that consumers are demanding."

To ensure their certified organic status, organic producers must protect themselves from contamination by genetically-modified materials, such as pollen and synthetic pesticides. Although the bill places authority over planting only with the state, Ager and others are concerned that the legislation could be used to protect companies that make genetically-modified seeds, by increasing their use and therefore threatening organic production in the state.

According to Fawn Pattison with Toxic Free NC, large corporations that make genetically-modified seeds are the ones pushing for this legislation.

"This is not a bill that does anything to help any North Carolina farmers, North Carolina consumers," she charged. "It really is purely in the service of large companies that want to protect their corporate patents, and they've asked the Department of Agriculture to file this bill."

House Bill 379 was proposed in 2005, but failed to pass through the State Assembly. Roland McReynolds with the Carolina Farm Stewardship Association explained that the bill is motivated by the fact that nine years ago three California towns banned the planting of genetically-engineered crops. But, he said, no one has proposed that in North Carolina.

"This is not a problem that exists, and it's not even a problem that would be likely on the horizon, and yet there's this pressure to pass this legislation," he asserted.

The language of the bill has been attributed to a meeting of the American Legislative Exchange Council, known as ALEC, an organization which writes proposed legislation, generally conservative, and then lobbies to pass it in states around the country.
Stephanie Carroll Carson, Public News Service - NC