Tiny WA Town Makes Big Summer Learning Strides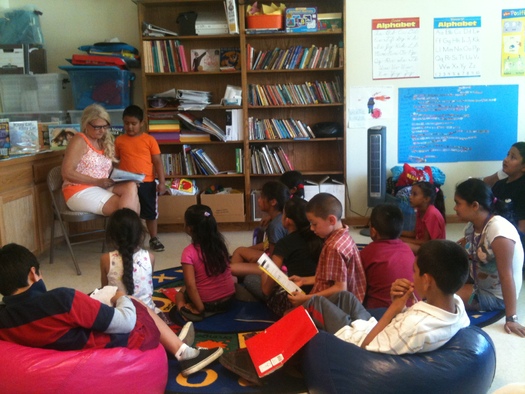 PHOTO: The rural community of Buena, Wash., has made a commitment to keep kids learning during the summer, to prevent reading and math skills from slipping in the months they aren't in school. Photo credit: School's Out Washington.
June 21, 2013
BUENA, Wash. – Today is National Summer Learning Day and for children in rural Washington and from lower-income families, summer learning programs are a critical resource to prevent the brain drain that's been proven to erode reading and math skills during the summer months.

That's where programs like BLAST come in – the Buena Library After-School Tutorial.

Librarian Kathy Garcia says in the summer months, it's a learning lifeline for children of area farm workers.

"We are five miles from the nearest actual town," she says. "This is an unincorporated area, it's very rural and the only activity in the community for the children is this library community center building."

Garcia says the program focuses on reading and math skills, and offers outdoor activities. Community members raised money for the building over 10 years, and located it near a farm workers' housing complex so children can walk there.

In a recent national survey of more than 500 teachers, two-thirds said it takes three to four weeks to catch students up when they come back to school in the fall, on material they learned before the summer break.

Gary Huggins, who heads the National Summer Learning Association, says that's too much wasted time.

"It's almost Halloween before we're doing something new, in a lot of classrooms," he says. "That significantly diminishes the effectiveness of education reform efforts that we invest a lot of money, time and political capital in."

In the survey, 24 percent of teachers said it takes five weeks of catch-up lessons before they can focus on teaching new material in the fall.

An estimated 472,000 children in Washington live in poverty. Garcia says Buena and other Yakima Valley communities try to make their summers a break from school, but not a break from learning.

"And in addition to that, in this community there are a lot of second-language learners," she says. "And this just gives them more opportunity to learn more vocabulary, more interaction with a teacher that's in English, so they get that much more practice."

Chris Thomas, Public News Service - WA