VA Candidates Forum Focuses on Mental Health Issues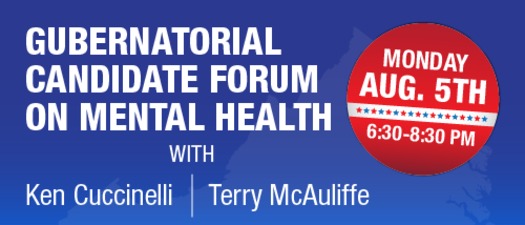 GRAPHIC: The candidates will appear separately at a forum on mental health tonight.
August 5, 2013
RICHMOND, Va. - Thanks to a boost from the General Assembly this year, mental health programs are expanding for kids in Virginia. Now the question is, will the next governor continue that progress? More than two dozen advocacy groups are hosting a candidates' forum on mental health issues in Richmond tonight.

Margaret Nimmo Crowe is the acting executive director of Voices for Virginia's Children.

"We have serious problems with access to services for both kids and adults, and we certainly have lots of veterans who have mental health issues," Crowe said, "so we really want to hear what they have to say and what their plans are on these issues, and we plan to ask them some tough questions."

Voices for Virginia's Children has reported that as many as 105,000 children and adolescents in the state struggle with a serious emotional disturbance, and services for them are fragmented.

Nimmo Crowe said Republican Ken Cuccinelli and Democrat Terry McAuliffe will appear separately at tonight's forum, answering the questions given to them in advance. She said she hopes the forum will help elaborate upon the candidates' positions, which so far, have sounded favorable.

"We're actually very encouraged that both candidates have issued policy statements supporting improving the mental health system in Virginia," Crowe said.

The forum starts at 6:30 tonight at Oates Theater at Collegiate School.