Report: New Mexico Leads Nation in Childood Hunger, Again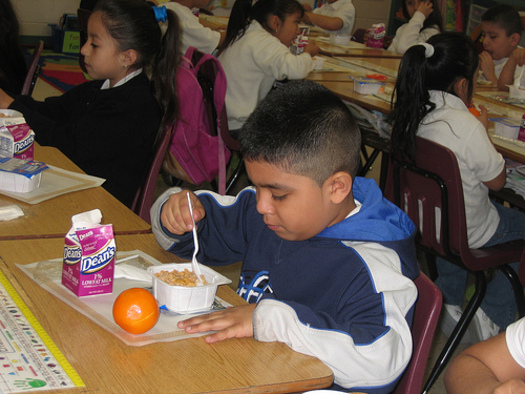 PHOTO: A new report says New Mexico is again No. 1 in America for childhood hunger, affecting almost one in three kids in the state. Photo courtesy U.S. Department of Agriculture.
April 30, 2014
ALBUQUERQUE, N.M. - New Mexico is again leading the nation in childhood hunger, according to a new report.

Sonya Warwick, communications officer for the Roadrunner Food Bank of New Mexico, said the annual "Map the Meal Gap" report from Feeding America shows that in 2012, 29 percent of the state's children didn't get enough to eat. She said it means that about 150,000 kids in New Mexico often go to bed hungry.

"So, that means that kids do not have the ability to have enough 'fuel' in their bodies to get up in the morning and go to school - when they haven't had breakfast, for example - to perform well," she said.

In the same report the previous year, Warwick said, New Mexico also was first in the nation for childhood hunger. Within the state, the report showed the highest rates in Luna County at 40 percent, while Taos and Cibola counties are second and third with rates between 32 percent and 33 percent. In comparison, the national childhood hunger rate is 19 percent.

Warwick said the Roadrunner Food Bank is addressing the challenge with a pilot program called the "Childhood Hunger Initiative," scheduled to start this fall. She says it will involve giving tons of food to schools to allow children better access to more meals during the day.

"Just by making this one change," she said, "we think we can increase just the poundage that schools who receive this food, probably by 400,000 pounds."

According to the report, Mississippi, Arizona, Georgia and Nevada round out the top five states with the highest hunger rates among their youngest residents.

The report is online at feedingamerica.org.