Stamp Out Hunger "Delivers" for Rural Oregon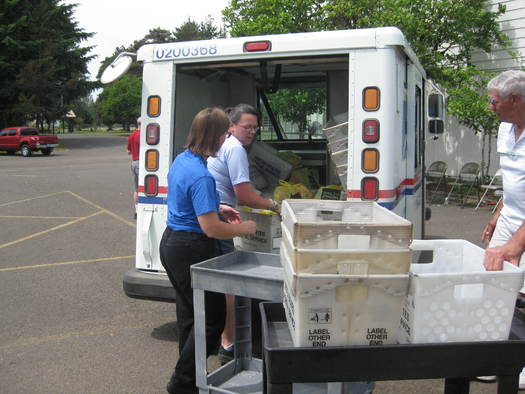 PHOTO: It takes an army of letter carriers and volunteers to pick up more than 1 million pounds of nonperishable food items expected in this weekend's Stamp Out Hunger donation drive. Photo courtesy Oregon Food Bank.
May 7, 2014
PORTLAND, Ore. - An army of letter carriers, other U.S. Postal Service employees and volunteers will fan out across Oregon this Saturday for the annual "Stamp Out Hunger" canned food drive.

What they collect will be especially important in the state's smaller towns and rural areas. These are the parts of Oregon where recovery from the recession has been slow, as a letter-carrier such as Tom Wagnon in Creswell sees after 22 years on the route.

"We still have an unemployment problem around this area, and an underemployment problem," Wagnon said. "The kids are going to be out of school shortly, so what our community pantry does is, they use this food drive to stock the shelves, to basically try to make it through the summer."

He said Lane County also has a December food drive, and in one day Creswell residents managed to round up 3,000 pounds of food. So, that's the goal to beat for his town, in this weekend's Stamp Out Hunger collection.

Kay Graham, who runs a rural route outside Klamath Falls, said she's concerned about farm families and how southern Oregon's drought already is affecting them. Last year, the Klamath Falls carriers picked up 27,000 pounds of food. Graham said it's hard work for the carriers and volunteers, but they're gearing up for it.

"It's one in four families here in our area that are helped by the food bank," she said. "It's just a tremendous thing that we can do to help out. It's a way of giving back that really doesn't cost us anything but our time."

A benefit of this particular drive is that the food collected locally remains in the local area. The Oregon Food Bank network around the state and Clark County, Wash., has an ambitious goal of 1.5 million pounds. Last year's total was 1.1 million pounds.

Participation is easy: Just fill any sturdy bag with nonperishable food items and set it near your mailbox this Saturday, May 10.