Animal Cruelty No Contest Plea from CA Livestock Auction Owner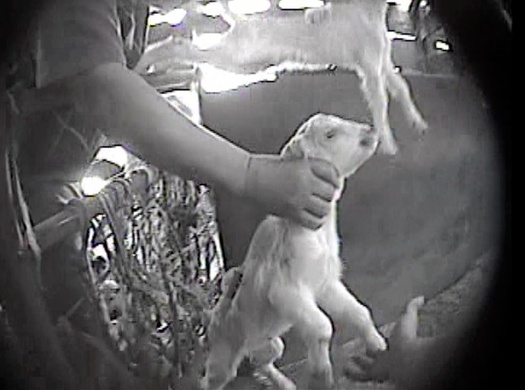 PHOTO: A hidden-camera investigation by the Los Angeles-based animal rights organization Mercy For Animals, shows a goat being grabbed by the neck at the Ontario Livestock Sales auction house in 2012. The auction house owner has pleaded no contest to violating California's criminal animal cruelty laws. Photo credit: Mercy For Animals
July 30, 2014
SAN BERNARDINO, Calif. - The owner of a Southern California livestock auction house is facing probation and fines after pleading no contest to animal cruelty charges under California's "downer" law.

Charges were brought against Horacio Santorsola after an animal-rights group secretly videotaped workers at the auction house beating, throwing and neglecting injured, lame or sick animals. Matt Rice, director of investigations for Mercy for Animals, said this case graphically illustrates the cruel, inhumane and often illegal abuses of farm animals.

"This conviction should serve as a warning to auctions across the state and the country that animal abuse will not be tolerated," he said.

Santorsola had argued the state law didn't apply to his facility because federal regulations allow injured or sick livestock to be sold and slaughtered if they pass an extra inspection.

When his group Mercy for Animals went undercover at Ontario Livestock Sales, Rice said, it shot hidden video that showed animals that were too sick or injured to even walk "being left to slowly suffer and die, without food, water, veterinary care, being kicked, pushed and dragged into transport trucks, and sold and slaughtered for human consumption - all in clear violation of California law."

Rice said they've done dozens of similar undercover investigations across the country that document conditions that would shock and horrify most Americans, "leading us to believe that animal abuse runs rampant in the animal agriculture industry, and showing that we need stronger laws to protect these animals from needless cruelty and violence."

Santorsola faces two years of probation and must pay a $1,000 fine to the Inland Valley Humane Society. Rice called it a slap on the wrist that proves stronger laws and harsher sentences are needed.

The video can be viewed at MercyForAnimals.org.