Estudio nombra ciudades de California entre las "Más Habitables"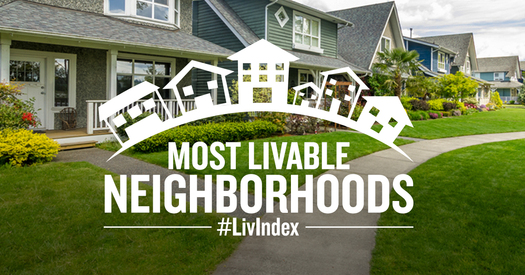 FOTO: El ejemplar de mayo del AARP Bulletin aplica el Índice de Habitabilidad para identificar los lugares más habitables del país para personas mayores de 50 años. Dieciocho ciudades de California recibieron altas calificaciones en el estudio, con South of Market de San Francisco nombrado entre uno de los diez Barrios Más Habitables (Most Livable Neighborhoods) del país. Foto cortesía: AARP.
May 5, 2015
SACRAMENTO, Calif. – Una nueva herramienta en línea, llamada "Livability Index" (Índice de Habitabilidad) ya permite a los californianos ver más de cerca su sector habitacional. Christina Clem, de la AARP California, comenta que la gente puede usar el Índice para determinar en qué medida sus comunidades están satisfaciendo sus necesidades presentes y futuras. Dice que dieciocho ciudades de California lograron buenas calificaciones.

"Muchas de ellas tienen que ver con nuestro estilo de vida saludable, tal vez actividades al aire libre o que se trate de una comunidad que ha tenido atención a la salud en sus hospitales locales."

El índice clasifica a las comunidades en siete categorías incluyendo vivienda, transportación, medio ambiente y oportunidades de empleo. El estudio nombró al barrio South of Market de San Francisco como uno de los diez "Most Livable Neighborhoods" (Barrios Más Habitables) del país.

La AARP define "comunidad habitable" como un lugar en el que la gente puede ir a donde quiera, viviendo cómodamente y con buena salud, y poder mantenerse activa y ocupada. Clem considera que todo esto es útil para personas de cualquier edad, no sólo para estadunidenses mayores de 50 años.

"Esperamos que esto acabe llevando las conversaciones de la comunidad a tener comunidades habitables para todas las edades, porque algo que es bueno para un adulto mayor también lo es para gente de cualquier edad."
Clem dice que este estudio, primero en su clase, encontró que muchas ciudades no están preparadas para la vejez de su población.

"Así que este es uno de los pasos que estamos tomando para no sólo darle a la gente una imagen de su comunidad, sino también para vincularles a políticas y recursos si quieren dar el siguiente paso e involucrarse en su comunidad para hacerla más habitable para ellos y para el futuro."

El Índice de Habitabilidad aparece en el ejemplar de mayo del Boletín de la AARP.

Consulte el Índice de Habitabilidad (Livability Index), en inglés, en AARP Bulletin.