White House to Develop Drought Strategies with Cities, States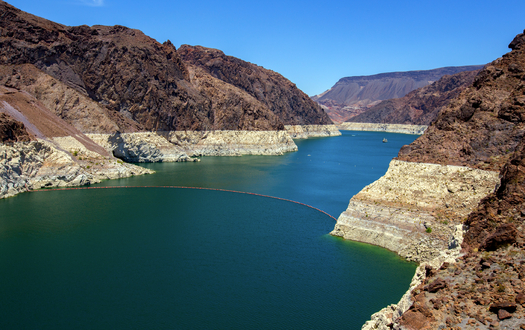 Lake Mead, a major water source for several Western states, is currently less than half full, a major indicator of drought conditions. (HofstetterPhoto/iStockphoto)
March 25, 2016
PHOENIX – At this week's White House Water Summit, President Obama issued an executive order expanding federal efforts to reduce the nation's vulnerability to drought, particularly in Western states.

Arizona and its neighbors are already working on the problem, with Phoenix Mayor Greg Stanton leading a group of mayors from Western cities to develop cooperative drought solutions.

Stanton's water services director, Kathryn Sorensen, said climate change is bringing major challenges to the region.

"The White House is really trying to emphasize the importance of building resilience for extreme events," said Sorensen. "And we know that, as the climate changes and we face an increasingly uncertain climate, we need to have good, sound strategies in place to deal with these events."

In his proclamation, Obama noted that almost 40 million Americans live under the threat of severe drought conditions.

He named the National Drought Resilience Partnership, with officials from 13 different agencies - including NASA, the Environmental Protection Agency and the Department of Energy - to help states and communities manage drought.

At a U.S. Conference of Mayors meeting in January, Stanton got together with other mayors from Arizona, California, Colorado and other states to discuss best practices for managing water resources and, according to Sorensen, lay the groundwork for future cooperation.

"They were able to talk about local leadership in climate change and water issues in general," she said. "You know, it's those kinds of relationships that can really help us plan for a future that, in terms of climate, is very uncertain."

She said the mayors plan to continue meeting to discuss drought strategies. Obama's order requires the panel to, by mid-summer, develop a comprehensive National Preparedness Report for states and cities coping with climate change and drought.