Minnesota Boomed by Raising Taxes; Could it Work in WV?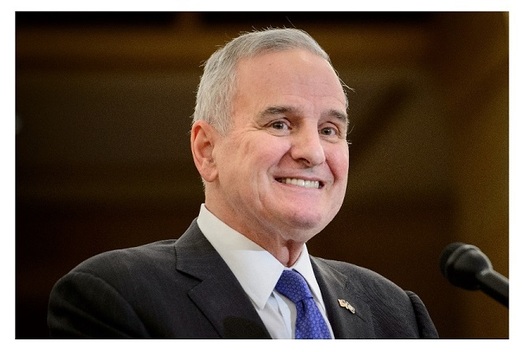 Under Gov. Mark Dayton, Minnesota raised taxes on high-income households - taking an approach opposite to what many West Virginia lawmakers favor. But Minnesota is growing much faster than the national average. (Gov. Mark Dayton's office)
March 30, 2017
CHARLESTON, W.Va. -- West Virginia lawmakers are looking at flattening or phasing out state income taxes. But the state of Minnesota increased taxes on the wealthy, and their economy is booming.

Several states, including Kansas and Wisconsin, have slashed taxes on higher income households in hopes of sparking growth. But under Gov. Mark Dayton, Minnesota went the opposite direction, and the state's economy is now growing faster than in those states where tax cuts were deployed.

Minnesota's unemployment rate is a full point below the national level, and its growth rate is a full percent above average. Clark Biegler, policy analyst with the Minnesota Budget Project, said it was a big tax hike, but it paid for investments in education.

"So it was a two percentage point increase for the 2 percent of Minnesotans with the highest income," Biegler said. "We've been able to fund free all day kindergarten, to improve financial aid for low income students, and we were actually able to institute a two-year tuition freeze."

In spite of a huge budget gap, West Virginia's Republican-led Legislature is debating bills that could get rid of the state's progressive income tax - largely replacing it with more sales taxes. Backers have said they hope it would bring more businesses and growth.

Biegler said Minnesota's tax hike helped turn a $1 billion two-year budget shortfall into a $1.8 billion surplus. And the state added nearly 50,000 jobs last year. She said investing in the workforce through education helped put the state in Forbes magazine's top five for quality of life and economic climate.

"Deficits can create opportunities. Minnesota has found that raising revenues - increasing our income tax - has laid a foundation for us to make really important investments in our state," she said.

By comparison, PolitiFact has reported that Wisconsin is facing a two-year, $2.2 billion budget shortfall. And The Kansas City Star reported that Kansas has an $800 million deficit for fiscal year 2016.