Farm-to-Table: 1300-Mile Success for ND's Founding Farmers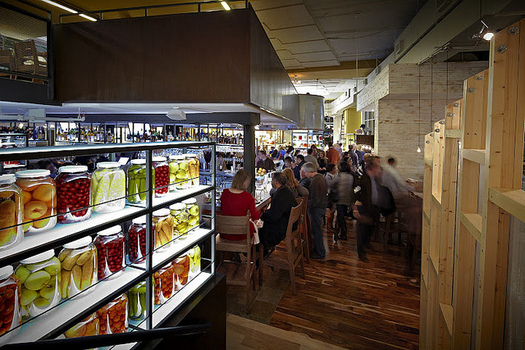 The flagship Founding Farmers restaurant near the White House has been the most requested restaurant for dinner reservations anywhere in the U.S. on the website OpenTable.com for five years running. (Founding Farmers/Flickr)
June 27, 2017
BISMARCK, N.D. – A number of Washington-area restaurants are serving food from a faraway place: North Dakota's family farms.

There are five Founding Farmers restaurants located in and around the nation's capital with another two on the way.

The restaurants' message? Small farms across the United States are growing the country's best food.

Mark Watne, president of the North Dakota Farmers Union, says the state's farmers get to bring their product right to the consumer at these Beltway restaurants.

"There's a lot of money that's made on food, but the farmer tends to be the low man on the totem pole or the low woman on the totem pole," he states. "And we're concerned that we're not getting paid a fair shake for what we sell, and this is one way for us to garner, again, more of that profit."

Food is sourced from family farms and ranches, as well farmer-owned cooperatives.

Founding Farmers has been a massive success so far. It's flagship, near the White House, has been the most requested restaurant for dinner reservations anywhere in the U.S. on the website OpenTable.com for five years running.

However, Watne is concerned about the steadily declining cost of commodities and what that means for family farms.

As cost goes down, farmers must produce more to stay profitable. In the end, Watne says this model favors big agricultural farms.

"We really need a new demand," he stresses. "We need new avenues for income. We need things that raise those price of commodities up or we're going to consolidate this industry down to a few farmers who maybe will organize to a point of where the consumer won't benefit."

Watne adds that the Founding Farmers restaurants aren't located in the Washington area just to influence policymakers. He says the capital was also chosen because it's recession-proof.