Veterans Urge Congress to Protect "Lands of the Free"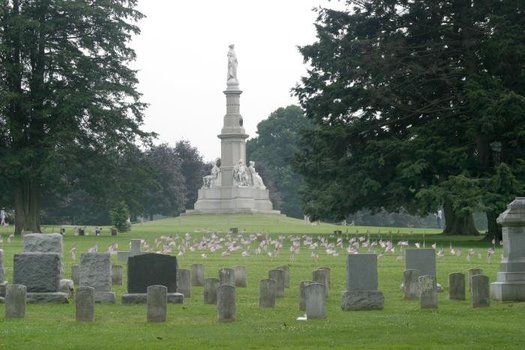 The program that helped create Gettysburg National Military Park and other iconic historic sites is set to expire Sept. 30. (Wikimedia Commons)
May 25, 2018
DENVER – As Americans observe Memorial Day, more than eight thousand veterans from across the nation have signed a letter urging Congress to reauthorize the Land and Water Conservation Fund, a program that helps protect some of the nation's most historic battlefields, monuments and public lands.

Garett Reppenhagen is the son of a Vietnam Veteran, grandson of two World War II veterans, and served in Kosovo and Iraq. He's also the Rocky Mountain director at the Vet Voice Foundation, and says it's important for leaders to support a program that honors the sacrifices made by service members.

"To protect this country, and a program that supports the land of the free," says Reppenhagen. "It protects our ability to utilize the outdoors and recreate in public lands, and it also helps protect some of these battlefields and historic sites of our military heritage."

The letter, which includes signatures from 350 Colorado veterans, is calling on Congress to restore the fund before it's set to expire on September 30th.

Reppenhagen says if lawmakers don't act, the program that has funded iconic sites such as Gettysburg and the 9/11 Memorial would be at risk. He notes the program also supports national parks and forests, and more than 40,000 state and local park projects across the country.

Reppenhagen says the fund also is critical to Colorado because outdoor recreation contributes more than $37 billion annually to the state's economy, $2 billion in state and local tax revenue, and more than 200,000 direct jobs. He adds that projects ranging from restoring baseball fields and inner-city swimming pools to connecting hunters and anglers to wilderness areas comes at no cost to taxpayers.

"It draws funds from offshore oil and gas royalties," says Reppenhagen. "And that money, because obviously there's degradation to our environment from oil and gas drilling, the original idea was take some of these dollars and put it towards conservation efforts."

The fund was created by Congress in 1964 with bipartisan support to provide funds and matching grants to federal, state and local governments. Its historic focus has been to conserve lands considered irreplaceable, including national parks, forests and wildlife areas.