Voting Options for Iowans with Disabilities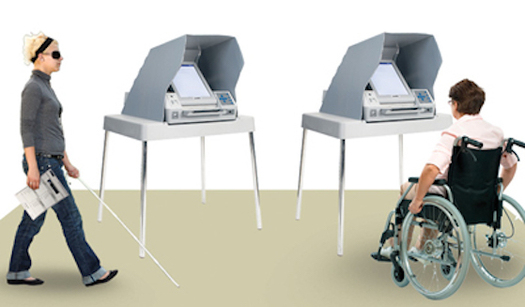 Iowa has about 315,000 residents with disabilities who are eligible to vote in the November midterm election. (dnswm.org)
July 18, 2018
DES MOINES, Iowa – One way people stay active in their community is by voting, and as the November midterm election approaches, advocates for Iowans with disabilities say they're no exception. They also have a number of ways to cast a ballot.

When peopple with disabilities don't vote in elections, said Rik Shannon, public-policy manager for the Iowa Developmental and Disabilities Council, it's often because they lack information about the candidates or the election process, making them feel less confident or competent about their selections. Another reason, Shannon said, is the hassle of traveling to a polling place.

"One of things that we have found in studies," he said, "is that the voter registration rate of people with disabilities, when compared to the general population, is about 2.2 percent lower."

Shannon said Iowa offers several voting alternatives including absentee balloting, early voting and curbside voting - but getting registered to vote is the first step. National Disability Voter Registration Week continues through this Friday.

Estimates show more than 35 million individuals with disabilities nationwide are eligible to vote, including 315,000 in Iowa. This year's state ballot promises to be lengthy, with Iowans choosing a new governor, U.S. House members, 25 state senators and all 100 state representatives.

In addition, Iowa lawmakers passed new legislation that Shannon wants those with disabilities to know about.

"In Iowa, we've had a change this year. We added a voter identification law," he said. "[We're] helping people learn more about the law, what it means for them, and trying to prepare them once they go to the polling place, and what they can expect with those changes in Iowa law."

People who don't have a driver's license or passport can get a state-issued voter ID card. The law won't take effect until 2019. This year's "soft" rollout means voters without the card will be asked to sign an affidavit verifying their identify.

More information is online at aapd.com, and the Iowa Secretary of State's voter ID information is at sos.iowa.gov.