The Terminator Fights Gerrymandering in Michigan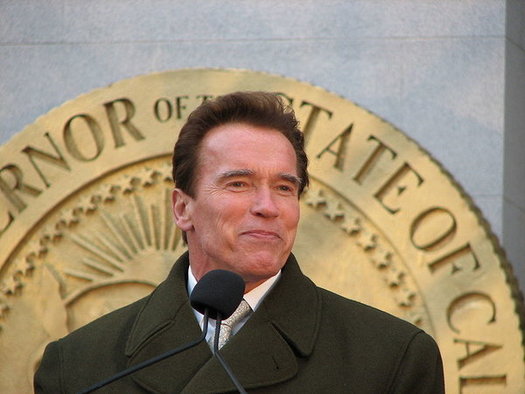 Former California Gov. Arnold Schwarzenegger helped pass anti-gerrymandering rules in the Golden State, and will rally for similar reforms in Michigan on Saturday. (Nate Mandos)
October 18, 2018
EAST LANSING, Mich. – Actor and former California Republican Gov. Arnold Schwarzenegger will headline a rally on Saturday to promote Proposal 2, the anti-gerrymandering measure on the November ballot.

Schwarzenegger, known for his starring role in "The Terminator" movies, will appear at Ann Street Plaza at 9:30 a.m. in East Lansing before the Michigan-Michigan State football game.

Katie Fahey, founder and executive director of the group Voters Not Politicians, says Proposal 2 would establish an independent citizen-led redistricting commission in place of the current system that, she says, allows politicians to choose their voters, not the other way around.

"Republicans were in charge of this most recent process, and even though we voted 50-50 for our congressional seats, we have nine Republicans elected and only five Democrats elected," she points out. "And when Democrats have been in charge of this process, we've seen similar results."

Fahey says as it stands now, the party in power has incentive to draw strangely shaped districts that concentrate most of the opposition into the fewest districts possible, called packing.

Or they engage in cracking where they split communities into multiple districts in order to dilute their power at the ballot box.

Electoral districts are updated every 10 years and the next update will be in 2020.

Fahey says Michigan's current system tends to reward partisans who reject compromise and show little interest in what's best for Michiganders.

"That leads to a lot of Michigan voices not being heard," she maintains. "We have politicians who don't show up for public meetings or who are more accountable to special interests and lobbyists than the people of Michigan.

"And that's exactly why we really need to remove that conflict and give this power back to the voters instead of the politicians."

Proposal 2 would establish a redistricting commission made up of 13 citizens, including Democrats, Republicans and independents who will be forced to hold public meetings and compromise when creating future voting districts.