Access to Care Barrier for Idahoans in Need of Mental Health Help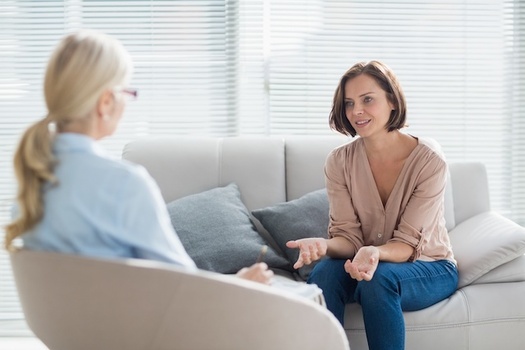 A licensed professional counselor says Idaho's Medicaid expansion could open up access to mental-health care, but predicts work requirements will hinder its effectiveness. (WavebreakmediaMicro/Adobe Stock)
May 15, 2019
BOISE, Idaho - It's Mental Health Awareness Month, and Idaho is falling behind other states on this front. The group Mental Health America ranks Idaho second-worst for prevalence of mental illness and lack of access to care.

Licensed professional counselor Beverly Hines, president of the Idaho Mental Health Counselors Association, said she believes the state took a step forward by passing Medicaid expansion. She said she and other counselors had been working free of charge with folks who fell into the Medicaid gap - those who made too much to qualify for the program, but not enough to afford care. However, Hines said she worries that adding work requirements will hold that progress back.

"Even though voters have stated this is something that they want," she said, "there are lawmakers who are trying to roll it back and minimize, still, access - in terms of requiring people to work 20 hours a week and such, putting obstacles in the way of people getting help."

More than 60% of Idaho voters approved Medicaid expansion in November, but Gov. Brad Little signed on to allowing work requirements, saying they will encourage self-sufficiency. The requirements need federal approval in order to be implemented.

Hines said Idaho's suicide rate also is troubling. A Centers for Disease Control and Prevention report from last year found the state had the seventh-highest rate of suicide in the country in 2016. The Idaho Department of Health and Welfare has said suicide is the second-leading cause of death for Idahoans ages 15 to 34, and men up to age 44.

If people believe someone in their life is thinking about suicide, Hines said, they should be direct with them about it.

"Sometimes, people are afraid to broach the topic because maybe they'll put that idea in their heads," she said. "You know, 'If I ask them if they feel like hurting or killing themselves, maybe that will cause them to do it.' And that is absolutely not supported by research. In fact, it really provides an opportunity for conversation and possibly moving them to get care."

Hines said there is a stigma around mental-health treatment, as people assume it's only for those who are severely ill. However, she noted that mental-health care can benefit anyone facing difficulties in his or her life, such as unemployment or the loss of a loved one.

The Mental Health America rankings are online at mentalhealthamerica.net, and Idaho Health and Welfare statistics are at healthandwelfare.idaho.gov.