Endangered List Changes Put Some AZ Species at High Risk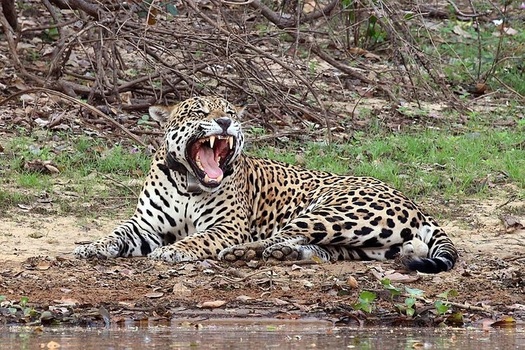 There may be only two or three jaguars left in Arizona. The big cats' range is in the Sonoran Desert in northern Mexico and southern Arizona, but due to hunting and habitat destruction, few have been observed in the past several years. (Wikimedia Commons)
August 14, 2019
TUCSON, Ariz. – Conservation groups say Trump administration changes to the Endangered Species Act could affect some rare Arizona animals in a major way.

The new rules proposed by the U.S. Interior Department make it easier to remove a species from the list and weaken protections for threatened species, as well as eliminating such factors as climate change from consideration. It also, for the first time, allows regulators to consider the cost of listing a species to businesses and jobs.

Sandy Barr, director of the Sierra Club's Grand Canyon Chapter, said the changes run counter to the original intent of the act.

"What the Trump administration is doing is contrary to what people have said, time and again," she said. "It's contrary to the commitment that we made as a country, and it's outrageous."

Barr said protected species in Arizona – such as the Mexican gray wolf, Chiricahua leopard frog and jaguar – could disappear if they are no longer protected.

Interior Department officials have said the rules are an attempt to modernize the act.

Critics of the revised rules, which could go into effect in September, have said they're aimed at clearing the way for new mining, oil and gas drilling, and development. Several states have said they'll sue over the changes.

Noah Greenwald, endangered-species director for the Center for Biological Diversity, said what concerns him is the watering down of safeguards for animals designated as threatened.

"If you were listed as 'threatened,' you had the same protections as an endangered species - protection against harm, harassment, killing and habitat destruction," he said. "Going forward, species that are protected as threatened won't get those protections."

Barr said designating a species as threatened allows biologists to observe its condition and act to protect it before it becomes endangered.

"One of the key things with any species that's imperiled is earlier action," she said. "So, if a species is threatened, there is an opportunity to do something before the numbers are at a point where it is endangered."

Arizona ranks among the top 10 states for endangered species, with 65. Hawaii is first, with 503 species on the list, followed by California at 299, Florida at 135 and Texas at 103.

ESA revisions are online at fws.gov.