OR, CA Lend Help to Keep Klamath Dams' Demolition on Track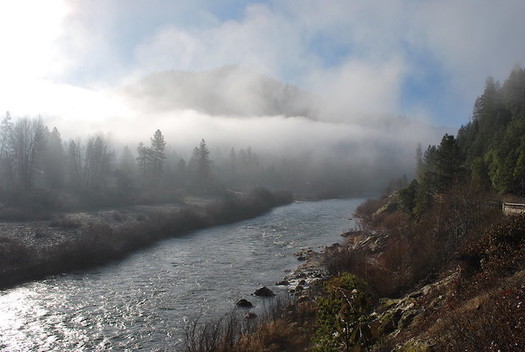 The Klamath River was once the third-largest salmon producing river on the West Coast. (Matt Baun/U.S. Fish and Wildlife Service)
November 18, 2020
KLAMATH FALLS, Ore. -- Oregon and California are stepping in to save a project to remove dams from the Klamath River. The states are applying to co-license removal alongside tribes, the Klamath River Renewal Corp. and dam owner PacifiCorp.

In July, the Federal Energy Regulatory Commission decided PacifiCorp should be liable for removal of four dams on the Klamath. The utility has disagreed. In this new agreement, the states would share liability with the company.

Brian Graber, senior director of river restoration for the group American Rivers, said the removal project is important to restoring species such as salmon in the region.

"The Klamath River was once the third-largest salmon producing river on the West Coast," he said, "and these dams and their impacts have really destroyed that salmon fishery."

One of the dams is in Oregon, and three are in California. Removing them will restore 400 stream-miles of the Klamath. PacifiCorp agreed to remove the dams in 2010.

The dams' threats to fish have had a big impact on the Yurok Tribe. Frankie Myers, vice chairman of the tribe, said the health of his people and the land are intertwined, making river restoration key to restoring the Yurok people's society and culture. He cited one Yurok story that says if there's ever a time when the river doesn't have salmon, there will be no need for the Yurok people.

"So that's what it means to us as Yurok people," he said. "The survival of the salmon is the survival of our culture, and our people here on earth."

Graber noted that about 1,700 dams have been removed across the United States, to the benefit of local ecosystems.

"There's really no faster, effective way to bring a river back to life than taking a dam out," he said.

He said removal is estimated to cost $450 million and could begin in 2023.