PNS Daily Newscast - August 16, 2019.
Charter-school reforms are in the works; and green-card applicants face hurdles with new federal changes. (Broadcaster Note: Our 6-min. newscast now has an optional outcue at 3 minutes, "This is PNS.")
Daily Newscasts
Tweets by @PNS_News
Public News Service - WV: Juvenile Justice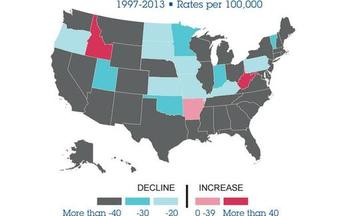 CHARLESTON, W. Va. – Lack of behavioral health care for children may be undermining West Virginia's efforts to reduce truancy, cut juvenile incarceration and improve foster care, advocates say. They pointed to surveys showing that a much higher than average portion of state high school stude
CHARLESTON, W. Va. - A new understanding of how trauma changes the brain shows promise of helping with crime, education, health care, even parenting. Marshall University professor of counseling Carol Smith says traumatic injuries can be emotional or physical. She says the bad news is they can cha
CHARLESTON, W. Va. – To improve public health, count the ACEs – the Adverse Childhood Experiences. That's the message coming to a social workers' conference in Charleston. Virginia social worker Allison Jackson comes backed with a lot of new research and a compelling personal story.